"The measure of a man is what happens when nothing works and you got the guts to go on – Randall "Tex" Cobb
If boxer, kickboxer and actor Randall "Tex" Cobb was as allusive in the ring as he is outside the ring to get a story out of he may have been heavyweight champion! For a boxer who only had two fights in the city of "Brotherly Love" the fans there loved him even though he was from Texas! Now if he was from Dallas instead of Bridge City it might have been different!
It was in "Smokin" Joe Frazier's Gym on North Broad Street in Philadelphia that I first saw Tex Cobb. Instead of punching the heavy bag he kicked it. Watching him trying to skip rope was another thing. I remember telling him "did you ever think about taking up ballet?" He said "there ain't too many *#! Ballet schools in Texas" What trainer George Benton did to make a boxer out of a kick boxer was nothing short of a miracle. "You run for forty-five minutes, train for an hour and a half and the rest of the time you just hang out and talk tough" said Cobb.
Cobb was a bouncer after his career ended at a club in Kennett Square. One night a guy was flirting with the girlfriend of one of the performers on stage. He ran off after the guy and before Tex caught up to him the "flirter" headed outside. Seems he was waiting for the performer to come out not wanting to have Cobb intervene. Cobb was back on the door when the performer came out and Cobb told both men "I can only get involved if you are in the club so do whatever you have to do."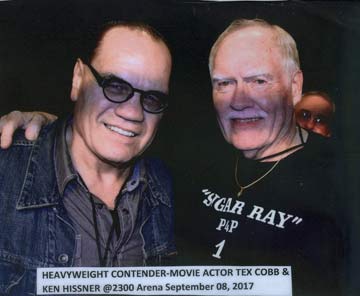 This writer hasn't seen Cobb since a boxing event at the Valley Forge Casino in King of Prussia probably in 2013. He was getting more attention in the crowd that the fighters were in the ring. I understand he and his wife moved to the state of Washington to help her ailing sister.
At Temple University in Philadelphia one night he kept a group of us laughing while he was putting on a fund raiser for the class he was in. One of the person's there was the owner of the legendary Blue Horizon in Philadelphia. She helped Cobb get a degree along with thousands of others. He attended Abilene Christian College where he played football with Philadelphia Eagle great Wilbert Montgomery. I asked that night "were you a blocking back for Montgomery?" He replied "hell no. He didn't need any blockers. I played the line both ways." He later graduated magna cum laude from Temple University in Philadelphia earning a bachelor's degree in sport and recreation management in 2008.
They showed some of his movies and one was with Chevy Chase together in a prison cell. When the quote "drop your drawers" came up Cobb jumped up off the sofa and said "that's what you call acting!" He wanted to make it clear he was all man!
Cobb was asked about his fight in Pittsburgh, PA, in November of 1981 against Colombian Bernardo Mercado 27-3, on the undercard of Larry "The Easton Assassin" Holmes and Renaldo Snipes. When Cobb walked into the room for a press conference there were seven heavyweights on the card sitting at a table on the stage including Holmes, Snipes, Jimmy Yung, Michael Dokes, Mercado, George Chaplain and Tommy Franco Thomas. Cobb looks at the seven sitting there and says "look at this seven of the baddest n…ers at one table on the stage! And then he goes into that famous laugh of his. Six of them laughed while Snipes got up and said "when I'm done with Holmes you're next!" Cobb responded "if I have to wait until you're done with Holmes we'll never fight because you ain't beating Holmes but we can get it on right now." Snipes wisely sat down. I'm sure he figured Cobb was more dangerous outside the ring since he could use his feet! Cobb won his fight and Snipes lost his.
Almost a year to the day Cobb got his chance at the WBC Heavyweight champion Holmes. A reporter asked him if he considered himself a "white hope?" Cobb replied "well, I'm white and I'm hoping!" Cobb lost a decision over fifteen rounds at the Houston Astrodome. The action was stopped while the referee would check Cobb. He asked him "can you see me?" "Yeah, you're white. It's the black guy I'm worried about," said Cobb. Ring commentator Howard Cosell was so upset about the one sided fight he never covered another fight again. "I'd go another fifteen rounds with Holmes if Howard quit announcing football," said Cobb. Cobb considered that one of the highlights of his career!
Cobb was even part of a roast for Holmes and had Holmes and the audience in stitches! Larry Holmes didn't beat me, he only won the first fifteen rounds," said Cobb. Pertaining to a rematch he said "I don't think his hands could take the abuse."
Cobb and his wife (who was very nice) were regulars in the front row at the Legendary Blue Horizon. This was a place he never had a chance to box at but you would never know it the way the fans have taken to him. He would be introduced and the fans went wild! Owner Vernoca Michael always had Cobb and his wife as her guests sitting at ringside.
Cobb won his first sixteen fights with the first fifteen being stoppages before fighting one of the hardest hitting heavyweights in the history of boxing Earnie "Black Destroyer" Shavers, 60-9-1 with 57 by knockout in August of 1960 in Detroit, MI. "Earnie Shavers could punch you in the neck and break your ankle," said Cobb.
When the referee was giving instructions in the middle of the ring prior to the fight he asked "any questions?" Cobb said, "Can I bite him?" Cobb would stop Shavers in the eighth round with former WBC Heavyweight Ken Norton at ringside and bad mouthing Cobb and saying "Shavers is not the fighter who stopped me" (in one round). "If anyone hit harder than Shavers I would shoot him," said Cobb.
In Cobb's next fight he almost pulled off the win against the much more experienced Norton, 41-6-1, losing a split decision over ten rounds for his first loss in eighteen fights. In his next fight he came close to defeating future WBA Heavyweight champion Michael "Dynamite" Dokes, 19-0-1, losing a majority decision. How many boxers would fight Shavers, Norton and Dokes one after another?
Two years later Cobb would lose to future world champion and first conqueror of "Iron" Mike Tyson, James "Buster" Douglas, 17-2, by majority decision. Then in a rematch with Dokes the fight was stopped in the fourth on a technical split decision. Two more losses followed. One to Eddie Gregg, 21-1-1, and the only time he was stopped by Dee Collier, 7-4, in October of 1985.
Cobb would take seventeen months off before returning to the ring scoring six straight knockouts before banging heads with Bill Duncan, 4-0, in the first round ending in a technical draw. After two knockouts he met former heavyweight world champion Leon Spinks, 18-10-3, winning a majority decision.
After 41/2 years of inactivity Cobb returned to the ring against Sonny Barch, 19-3, ending in the first round but his win was reversed to a No Contest with both fighters testing positive for cocaine. Despite this Cobb came back the next month starting a nine fight winning streak with eight by knockout and finally retiring for good at the age of 39. His final record was 42-7-1 with 35 knockouts.
---