Love him or hate him, Conor McGregor caused a stir in the world of fighting by switching disciplines to face Floyd Mayweather in the boxing ring in 2017.
And after landing a nine-figure pay packet on his boxing debut, it's hard to see McGregor returning to the UFC anytime soon, in what would be a much more brutal contest for a fraction of the pay.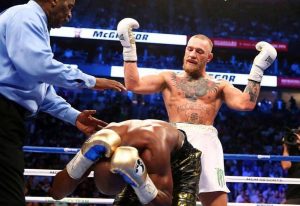 Source: Conor McGregor via Facebook
Every fighter on the planet seems to want a slice of the McGregor pie, but what are the most likely boxing opponents for the Irishman in 2018?
Manny Pacquiao
After Pacquiao called out Conor McGregor in November, talks have apparently been progressing on a fight between the UFC Lightweight champion and the former WBO Welterweight champion, with the Philippine fighter hoping to next fight in April.
After Floyd Mayweather, Pacquiao is by far and away the most prestigious boxer that McGregor could lure – and will surely represent another bumper payday.
Despite losing two of his last four fights – Pacquiao is one of the greatest fighters of his generation, and although his best years are behind him, he would represent a significant test for McGregor. In any boxing contest between the pair, Pacquiao is a hefty 4/11 favourite to beat McGregor, with a £100 free sports bet also available with Betfair.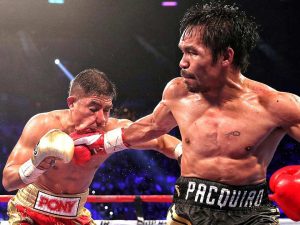 Source: Manny Pacquiao via Facebook
Paulie Malignaggi
While Paulie is nowhere near as highly regarded a fighter as Pacquiao, an intense rivalry between the pair has been brewing since they sparred together in the build-up to the Mayweather fight.
The leaked footage of McGregor landing heavy shots on Malignaggi in the warm-up bout – plus that now infamous knockdown/push debate – have led to many calling for an official boxing match between the pair, with Paulie chomping at the bit for a fat paycheck and a crack at the MMA superstar.
As with fights against most boxers, McGregor would be the underdog against Malignaggi (although only just), being priced at 6/4.
Oscar De La Hoya
One of Conor McGregor's most surprising callouts came from none other than 44-year-old Oscar De La Hoya, who hasn't fought since being thoroughly outclassed in his last boxing match, with Pacquiao, way back in 2008. Nevertheless, De La Hoya, who was one of the biggest critics of the Mayweather-McGregor fight, says he is already in training and claims he would knockout McGregor inside two rounds.
For fans of boxing and MMA, this is probably one of least inspiring fights, and one that no-one seems particularly interested in. Nevertheless, the pair are both priced quite evenly with bookmakers.
---