By Les Dowgier, Ringside
Primetime network TV boxing returned to Brooklyn's Barclays Center tonight with an action packed card highlighted by two entertaining though one-sided co-features.
In the first televised fight of the evening, newly crowned WBO Cruiserweight Champion Krzysztof Glowacki, 26-0-0, 16 KOs, successfully defended his title against the well-known and well-respected veteran and former two-time cruiserweight champion Steve "USS" Cunningham, 28-8-1, 13 KOs.
In his first title defense, Glowacki, cheered on by a large and boisterous contingent of Polish fans, cruised to a lopsided unanimous decision victory, dropping Cunningham 4 times in the process.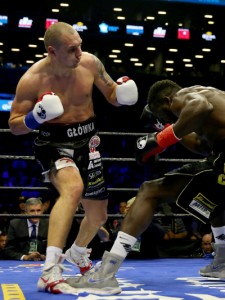 Cunningham was game and hurt the Polish fighter a few times during the fight, however, he continually seemed to be a step behind and after being dropped to the canvas twice in the 2nd round, it was clear that this was not to be his night. Glowacki also dropped Cunningham in the 10th and 12th rounds en route to a wide unanimous decision victory with the final cards reading 115-109, 115-109 and 116-108.
The second fight of the telecast featured two young undefeated light heavyweight prospects, 24-year old ethnic Serb Radivoje Kalajdzic, now 21-1-0, 14 KOs versus Marcus "Sir" Browne, 18-0-0, 13 KOs. Browne, from just across Verrazano Bridge in Staten Island, started off fast, being credited with a knockdown in the 1st round. The knockdown seemed to come more as a result of luck than skill as Kalajdzic appeared to slip and go down. Browne was equally fortuitous for not receiving a point deduction for hitting Kalajdzic after he went down.
Despite the unlucky first round, Kalajdzic, fighting out of Bosnia and Herzegovina by way of St. Petersburg, Florida, showed his class by taking back control of the fight, badly hurting Browne in the 4th round and dropping him in the 6th. Kalajdzic sent Browne to the canvas for a second time in the 8th and final round, however, for some reason, referee Tony Chiarantano ruled it a slip.
When the scores were announced, 76-74, 76-75 and 74-76, awarding Browne with the split decision victory, most of the arena booed the questionable "home town" decision, with the loudest boos coming from a fairy small but very loud and passionate group of Serbian fans sitting some 100ft from ringside.
In the last fight of the evening, the second co-feature, up-and-coming star Errol Spence Jr., 20-0, 17 KOs, dominated local favorite Chris Algieri, 21-3, 8 KOs, en route to a crushing 5th round knockout victory. Errol established the rhythm in the very 1st round, dictating the pace and being the more aggressive fighter.
Errol's dominance became apparent in the 3rd round when a swelling began to appear under Algieri's right eye. In the 4th round, Errol dropped Algieri with a hard left to the head though the Huntington, NY native managed to beat the count. In the 5th round, Errol again dropped Algieri with a thundering left hook. Though Algieri was once again able to beat the count, he was clearly hurt and Spence Jr. capitalized by dropping him one final time with yet another left hook after pinning him against the ropes, forcing a stoppage at 48 second mark of the 5th round.
After a great night of boxing, we now get to look forward to seeing what is next for the victorious Spence Jr. and Glowacki, as well as how Algieri and Cunningham bounce back from defeat.
---