By Les Dowgier
Though the odds-makers had Sergey "The Krusher" Kovalev, 17 years the junior of the age-defying, 49 year old, Bernard "The Alien" Hopkins, a 2-to-1 favorite to win the fight, there was an air of surprise when Kovalev won round after round and cruised to an easy decision victory. And there was certainly a tinge of doubt in the prediction of anyone who thought that Kovalev would be the victor, Jim Lampley (and this writer) included.  However, Kovalev lived up to the odds and cruised to a unanimous decision victory, knocking down "The Alien" in the process.
From the opening bell it was clear that Kovalev was not at all intimidated by the man who has mentally terrified so many opponents. Though that is far from enough to defeat the wily and defensively brilliant Hopkins, Kovalev proved that he was both physically and mentally capable of overcoming anything Hopkins had to offer. Kovalev was cautious but assertive and once he dropped Hopkins in the 1st round, with an innocuous looking right hook to the top of the head, it was clear that this was  not going to be a typical Hopkins fight. Despite the fight being fought at a slow, Hopkins-like pace, Kovalev looked very comfortable and made the much older Hopkins work every round. He pressed the action and made sure that the 49 year old champion worked hard to keep up his defense, and, as Roy Jones Jr. stated, made sure Hopkins, "used his legs." Hopkins put forth a valiant, warrior-like effort, but it was quite clear that he feared the power of the younger Russian challenger and refused to open up his defense by throwing anything other than occasional, aspirational, power shots, which he hoped would stun his hard-hitting opponent. Long story short, this strategy did not work and Kovalev easily out-threw,  out-landed and out-gunned the age defying phenom from Philadelphia.
Despite Kovalev's dominance in the fight, the fact that so many people were surprised by the outcome and so uncertain in their predictions speaks volumes about how amazing a fighter Hopkins is at the ripe old age of 49 and just how much he might have left in the tank. Though part of me wishes Hopkins would call it a career and take his rightful place in the hall of fame,  another part hopes he fights on because I am convinced that he can still frustrate and upset plenty of young guns, Adonis Stevenson included.
After tonight, two things are clear. First, the light-heavy weight division has a new, dominant force to deal with, one which ma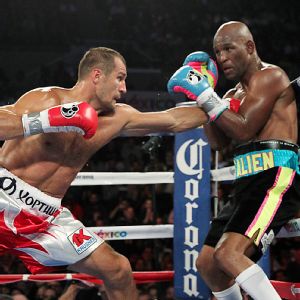 y run the division for years to come. Second, regardless of which path he chooses, Hopkins has proven that he is a true legend of the sport and deserves our praise and admiration.
---