Ibn Akbar Richardson, a New Jersey Golden Glove and National Champion, will be up against Eric George.
So we get a chance to hear from you before your debut fight on November 23rd, thank you for talking with us.
How did it go in the nationals?
Ibn- It was definitely and experience, getting to see everybody from different parts of the world. I think I did better than what I actually got credit for. I thought I won the fight, you're up there for five days, every day people came up to me saying they thought I won, but ended up getting out of the tournament earlier than I thought I should have been. It was definitely and experience though, I enjoyed myself.
Who's your trainer?
Ibn- Danny Bass, I've been training with him as long as I've been boxing, since 2003.
You were Tyyab Beale's sparring partner, are you still in the gym together?
Ibn- Yes, I've sparred with him and Kevin Johnson a lot.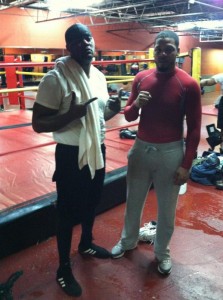 How would you describe your style?
Ibn- My strongest point in my boxing is I have jab. If I start to connect with my jab then everything falls into place. I'm more of a boxer, but I can get in the mix, sometimes I find myself getting in the mix.
What are you doing in the gym right now?
Ibn- My day consist of- First I run, then I do floor exercises, jump rope and then in the ring doing pad work or with my spar. Every day, on Sundays, I might just play basketball.
Have you always been at a cruiserweight?
Ibn- I started off at 165 and gradually worked my way up. I think I'm just doing this for my first fight and then I'll work my way back up to 190 and keep until my goal weight.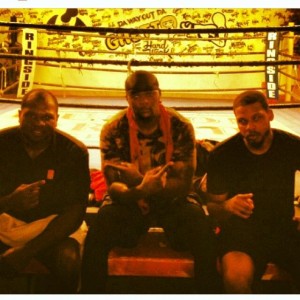 Who are your favorite fighters?
Ibn- Of course Mayweather. But, right now it's Andre Ward. I think his style is exactly how you're supposed to be as a boxer.
Who would be your dream fight?
Ibn- Roy Jones, I always liked the way Roy fought, growing up, that's who I liked to box like, Roy.
I know it's tough getting opponents for pro debuts, what do you know about this guy?
Ibn- I don't' know too much, just his record, that's it. He's 0-5, he's been stopped twice, and fought a kid I knew from the amateurs Tyrell Wright. I didn't talk to Tyrell about him, I just know he fought him.
Where are you from?
Ibn- Newark, NJ, south ward.
How old were you when you first started boxing?
Ibn- I used to go to the gym when I was younger, sixth grade, but I never liked it because I liked basketball. Once I got older, I graduated high school, I got back into boxing.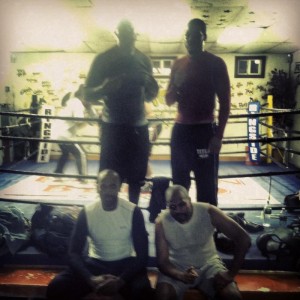 Who brought you to the gym to begin with?
Ibn- My mother brought me but it was the influence of my father. He's in jail now, he was real big into being able to protect myself so it was really him.
What will be next for you following this win?
Ibn- Right back in the gym. I'll probably take 2 days off, stay in shape in case I get call so I don't get caught off guard.
What do you predict will happen on November 23rd?
Ibn-I predict I will get my jab going and everything else falls right behind it, get my jab going, get my punches off. I predict a stoppage.
What are other things you do when you're not training?
Ibn- I work in the school system, so that's what I do for work. I'm a substitute teacher for Newark schools. I'm certified for k-12.
I want to say I appreciate all the support I've been getting over the years, this fight and other ones, all of my supporters.
Doors open at 6:45 and the opening bell is scheduled for 7:30. Weequahic High School is located at 279 Chancellor Ave in Newark.
Tickets from $35 are available by going to http://www.eventbrite.com/event/8886354325?ref=ebtnebtckt
---