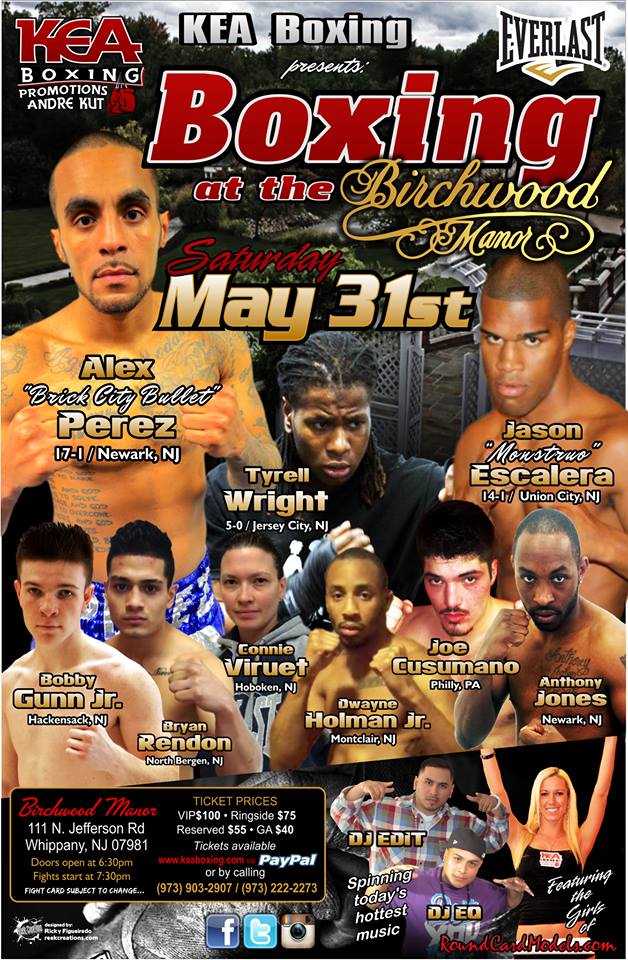 by: Joe Latti
We are just one week away from KEA Boxing's newest edition, which features a plethora of local talent that residents of the metropolitan area surely will not want to miss.
KEA Boxing features "The Next Generation of Champions" and that is a label that definitely suits these events.  Casual boxing fans know the obvious current stars of the sport like Manny Pacquiao, Floyd Mayweather, Miguel Cotto, Canelo Alvarez, Sergio Martinez and more…but fail to realize that all of those guys started at local shows, just like "Boxing at the Birchwood" on Saturday.  If you enjoy boxing and live in New Jersey, do yourself a favor and check out some of this up and coming talent.  These athletes live among all of us, not in mansions out in California or Las Vegas, and possess the hunger and drive to take themselves to the next level, eventually reaching the star caliber of the boxers mentioned before.
MAIN EVENT – Alex Perez, 17-1, 9 KOs vs. Jonathan Perez, 5-0, 3 KOs
The Main Event will feature Brick City Boxing and Newark's own Alex "The Brick City Bullet" Perez (17-1, 9 KO).  Alex is a skilled and polished boxer that puts on a show every time he competes.  He is a man with an interesting past, bright future, and has more heart and passion than most that step in the ring.
Jason Escalera, 13-2-1, 12 KOs vs Taneal Goyco, 6-6-1, 3 KOs
Jason "Monstruo" Escalera is a 29 year old middleweight out of Union City, NJ.  He is 13-2-1 with an astonishing 12 knockouts in those 13 victories.
Tyrell Wright, 4-0, 3 KOs vs. Aaron Lenoard, 1-2-1, 1 KO
Tyrell Wright is an exciting 27 year old heavyweight out of Jersey City, NJ that you will not want to miss.  He won by Unanimous Decision in his pro debut, and it has been all knockouts ever since.  Don't leave your seat during this one.
Bobby Gunn, Jr. 2-0, 2 KO vs Dominique Del Campo (debut)
Bobby Gunn Jr. is the son of former Canadian pro boxer Bobby Gunn, and is fighting out of Hackensack, NJ.  Gunn Jr. impressed in his first two pro fights with consecutive knockouts and is looking to improve on that against Del Campo, who is making his professional debut.
Anthony Jones, 4-0-1, 1 KO vs. Gustavo Medina, 1-5-1
Anthony "Sweet Tooth" Jones is an undefeated middleweight out of Newark, NJ. His last victory was by way of knockout in 2013 at a previous KEA Boxing event.
Connie Viruet, Pro Debut, vs Lyneisha Jefferson, 0-2
Connie Viruet out of Hoboken, NJ is making her professional debut in a 4 round, 2 minute bout.
Dwayne Holman, Jr., 0-1 vs. Richard Bonds, 0-1
Dwayne Holman, Jr. is a light welterweight looking for his first professional win out of Montclair, NJ.
ALSO ON THE CARD:
Joe Cusumano, 6-1, 4 KOs vs Excell Holmes, 2-3-1, 1 KO
Alex Serna, Pro Debut, vs Anton Williamson, Pro Debut
Wesley Tucker, 2-0 vs Tevin Reynolds, 0-1
Get your tickets now! Contact the Brick City Boxing Team or visit KEABoxing.com
Follow Alex Perez and his path to this fight with "Behind the Brick City Bullet" – A video series done by Resolution Sports
Episode 1
Episode 2
Episode 3
Episode 4
*ALL BOUTS ARE TENTATIVE AND SUBJECT TO CHANGE
---