Back in June of 2008 this writer did a Q&A on 1976 Olympian Chuck "White Chocolate" Walker pertaining to what his teammates thought of him. This article will be a reversal about him speaking about his teammates.
Walker was from Mesa, AZ, and when this writer first saw him he was winning the 1976 AAU Light Middleweight title stopping All Service Champion Keith Broom, from DC. We all learned after his win on Wide World of Sports he was also a professional tap dancer. The way he moved it was no surprise to me!
In the 1976 Pan Am Games Walker won a Bronze Medal and while losing a disputed 3-2 decision in the second round of the Montreal Olympics to Poland's Jerzy Rybicki who would go onto win the Gold Medal famed trainer Cus D'Amato was so impressed he asked Walker to join him in the Catskills, of New York. Figuring he would be taught the famous "Peek-A-Boo" style Walker declined.
Upon meeting "Sugar" Ray Leonard at "Smokin" Joe Frazier's Gym one afternoon I asked him what he thought of Walker: "I wouldn't want to fight Chuck in a real fight because our styles are so similar it would make for a bad fight."
Walker wasn't keen on turning professional but went onto posting a 9-1-1 (3), record trained by Henry Harris upon moving to Cut n' Shoot, TX. Harris' brother was Roy Harris who fought Floyd Patterson for his championship. Upon retiring Walker would become a film producer.
Chuck was kind enough to talk about his fellow teammates:
+178 JOHN TATE: John Tate and I were close in an unusual way. I don't think I'm revealing anything I shouldn't when I say that – at the time – John couldn't read. To his credit he became a much more literary man in later years, but many times back then he would ask me to read his letters from home to him privately. I was honored. He was a good guy with a good heart. And he was a helluva heavyweight.
#178 LEON SPINKS: Leon and I have become closer over the years than we were back then. We were certainly always friendly, but not just great buddies. That changed on the morning of my fight in Montreal. I was leaving for the weigh-in and he called out from his room at the end of the hallway. I went back there and he was still in bed. He took my hand and said, "I'm praying for you blood." It was a breakthrough in a friendship that has now lasted 44 years!
#165 MICHAEL SPINKS: Michael was always a friend. And I always liked him. I don't know if he remembers, but we talked a lot about music. Being next to each other's weight categories we sparred very often. Always a war!!! But we kept each other sharp. An easy-going guy who is a brother in life.
#147 CLINT JACKSON: Clint and I were particularly close. We even wrote each other letters to stay in touch. And we fought on a lot of USA teams together. Clint could "jive" with the best of them, but he was deep down a very sensible guy who always saw things in a very just way. I miss him and regret how things turned out in the Olympics and in life.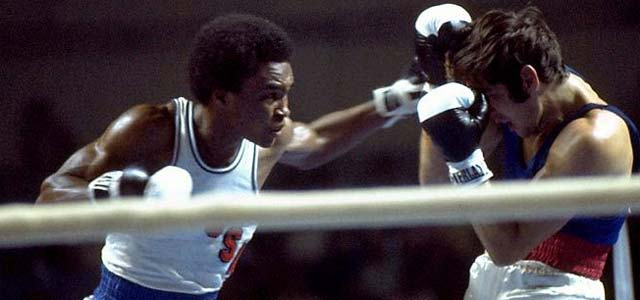 #139 RAY LEONARD: Ha!!! Ray was a close friend from the time we met in an elevator in Shreveport after we both had just won the National Championship in respective weight divisions. He was friendly from the beginning and we had some deep talks about life in general as we rode the bus to the gym in Mexico City during the Pan Am Games. He used to kid me about a young girl there who came to the gym to watch me train every day! One day I was the last on the bus to go back to the Village and I was met with a barrage of "reaction" from everyone. Turns out they had been watching me say goodbye to "Rosie" and had been making bets on whether or not I would kiss her goodbye. Uncharacteristically, on this particular day, I didn't…but Ray had bet I would, and he jokingly chewed me out for letting him down!
#132 HOWARD DAVIS, JR.: One of my best buddies on the team! Howard, Charles Mooney and I did everything together!!! We ran together (when I could catch up), ate our meals together, played pinball together, played ping pong, bitched about the training camps and had the coolest three-way friendship any three guys ever had. I truly miss that. And I miss Howard so much. Loved him like a brother.
#125 DAVEY ARMSTRONG: One of the truly "sweetest" guys ever. Very Pure of heart. He is a guy who just always makes you feel good. The only USA amateur to ever fight in two Olympics Games (72 and 76). I hear that Dementia Pugilistic has overtaken him and it saddens me terribly. He was a stand-up boxer and a stand-up guy!
#119 CHARLES MOONEY: As I mentioned…Charles, Howard and I were like the three Musketeers. We did it all together, had the same sense of humor and a knack for kidding. Charles and I are still very close. No matter how much time goes by it's as if we haven't missed a day. Wish it could be more! Love you always brother!!!
#112 LEO RANDOLPH: Leo used to be so shy. Now he is always horsing around!!! He and my wife Karen have become buddies and they are always pranking each other. I can't believe that shy kid had become such a practical joker!!! Like Davey, who is from the same town in Washington, Leo is a guy who always makes you feel better about the world and being in it!!!
#106 LOUIS CURTIS: I never thought anybody would beat the power-house Claudelle Adkins, but this unassumingly guy did just that! Louis and I were always close. Always had a great connection. You don't find a guy better than Louis. We always got along wonderfully and still do. Just a really good guy…that's all!!!
Ken, I am still involved with the feature film production business as a writer/director. My company, Walker Cable Productions, released a film BORDER CROSS in 2017 with Lorenzo Lamas and Danny Trejo, and are currently marketing several episodes of a streaming series entitled INVADED, also starring Lorenzo. In 2008 we released a big film, THE MAN WHO CAME BACK starring Eric Braeden, Billy Zane, Armand Assante, Sean Young, George Kennedy, and my old boxing buddy Ken Norton. We are in development on several projects, and are currently in pre-production on a film we shot last year called EMAILS FROM HEAVEN which will be marketing soon. So I think that brings you up to date. Hope all is well in your world and so glad you reached out to me again. Take care Ken!!!
---