Pittsburgh's Michael McSorley, Jr. of Integrity Fighter Management has built a stable of fighters from the Ukraine and Pittsburgh, PA. He owns and operates the Conn-Greb Boxing Club named after two of the most famous Pittsburgh boxers of all-time light heavyweight champion Billy "Pittsburgh Kid" Conn IBHOF and World Boxing inductee and middleweight champion and IBHOF inductee Harry "Pittsburgh Windmill" Greb, where pro boxers train. Greb was the only fighter to defeat heavyweight champion Gene Tunney.
In addition to both training and managing talent, Michael is a well-known cut-man and has worked with several top fighters across the United States and Canada including USBA Welterweight Champion Sammy "The Who Can Mexican" Vasquez, Jr. and Emanuel Augustus. As head coach of the 2014 St. Patrick Days Donnybrook Pittsburgh boxing team, McSorley's fighters beat Dublin's Drimnagh Boxing Club coached by Irish Olympic Gold winner Michael Carruth.
From 2017 to 2020 Michael and Pittsburgh based attorney JJ Richardson have promoted 10 events with two scheduled on March 20th and another for May at the Sokol Club on Pittsburgh's South Side. Their most recent event was on November 2nd at the Iceoplex in Cannonsburg PA. They started their first promotion on March 31st, 2017 at Carnegie Music Hall of Homestead where they promoted 3 events. They also co-promoted 2 events at the Monroeville Convention Center with friend Victor Olive.
In the Main Event of the March 20th event ABF Continental-Americas cruiserweight champion Lyubomyr "Demolition Man" Pinchuk, 12-1-1 (7), of Lviv, Ukraine, now fighting out of Pittsburgh will be taking on Tyler Vogel, 3-3 (2), of Bozeman, Montana, 6 rounds. In his last fight he defeated tough Philadelphia fighter Garrett "The Ultimate Warrior" Wilson for the vacant Pennsylvania State title in November. In his previous fight in July he defeated unbeaten Johnnie Langston for the ABF Continental-Americas title. The month before he traveled to Detroit and had a split decision draw with Detroit's unbeaten Taylor "Machine Gun" Duerr for the vacant WBC (USNBC) title. One judge had Pinchuk in front 98-92. In Taylor's next fight he won the vacant NABF Junior light heavyweight title.
Pinchuk's fellow countryman, 10-0 super bantamweight Oleh "The Ukrainian Pit Bull" Dovhun also trains under McSorley at the Conn-Greb Boxing Club. "Lyubo is a throwback fighter. From the door, we have matched him tougher this early…than any fighter out of Pittsburgh in the past 25 years. He's a beast."
One of their other fighters in the co-feature is welterweight Amonte "The Magician" Eberhardt, 9-0 (3), of Pittsburgh against Latiss Norman, 4-6 (2), of East Cleveland, OH, 6 rounds. "I have known Amonte awhile and know what he is capable. He's an exciting fighter. We look to keep him busy in 2020." Michael will also have his super featherweight Johnny "TTG" Spell, 2-0 (2KO), fighting on March 20th. Spell is trained by his father, John Spell, who is a former pro boxer. "Spell is as big a talent coming out of Pittsburgh as anyone we have seen. He's a next level guy."
Another of his fighter's lightweight Kelvin Smith, 2-2 (1), of Pittsburgh. "Kell is a tough Pittsburgh fighter with a big right hand." He will be taking on Rosie Morales, Also on the card is USMC veteran and 3-0 southpaw lightweight Rosalindo "Rosie" Morales, 3-0 (0), out of Ellwood City, PA. Like Eberhardt, Morales was a former 2016 Pennsylvania State Golden Gloves champion.
Lightweights Llewelyn "The Gentleman" McClamy, 2-0 (1), of Pittsburgh, PA, takes on Gerffred "The Authentic" Ngayot, 2-0 (1), of the Congo now out of Buffalo, NY, 4 rounds.
The May event features two of Michael's boxers lightweight Johnny Spell, 2-0 (2KO), and super welterweight Amonte "The Magician" Eberhardt, 9-0 (3KO), in separate bouts.
In talking with PA Boxing Commissioner and former referee for 25 years Rick Steigerwald, he recommended contacting Michael when this writer asked him about the Ukrainian boxers Michael has.
In the event that anyone wants to reach Michael they can at tel and mobile 412-728-3409 or mcsorleyifm@yahoo.com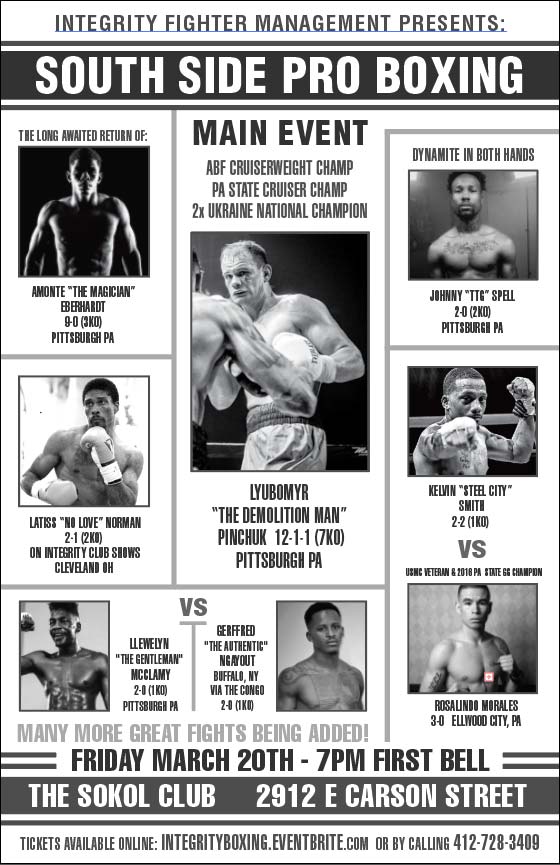 ---