This writer has said it since day one that Philly's Jaron "Boots" Ennis is the best Philly prospect since 1984 Olympic Gold Medalist and world champion Meldrick Taylor!
Ennis, 22-0 (22) will be returning to action per his father-teacher "Bozy" Ennis on Friday August 24th. The event is on USA Showtime but it is not clear whether his bout will be shown or not. He will be facing Franklin "El Matador Jr." Mamani, 23-5-1 (13), of LaPaz, Bolivia at Main Street, Broken Arrow, Oklahoma in one of the three ten rounder's. Dmitriy Salita of Salita Promotions is the promoter.
Mamani put Argentina's 2-time world title challenger Raul "Pepe" Balbi, 55-11-2 (38), into retirement in a TD for the vacant WBA Fedebol Welterweight title. He defeated Mexico's Carlos Urias, then 46-24-1, for the WBC FECARBOX Super Lightweight title. He defeated the former WBO Light Welterweight champion DeMarcus "Chop Chop" Corley, then 40-21-1, in his next fight adding the interim WBC Latino title. He made four successful FECARBOX defenses before vacating the title. Mamani's only US appearance was a loss to Dejan "Dynamite" Zlaticanin, then 21-0, of Montenegro, in 2016 at the Turning Stone Resort for the vacant WBC World title. In 2012 he won the South American Super Lightweight title and made one successful defense before vacating the title.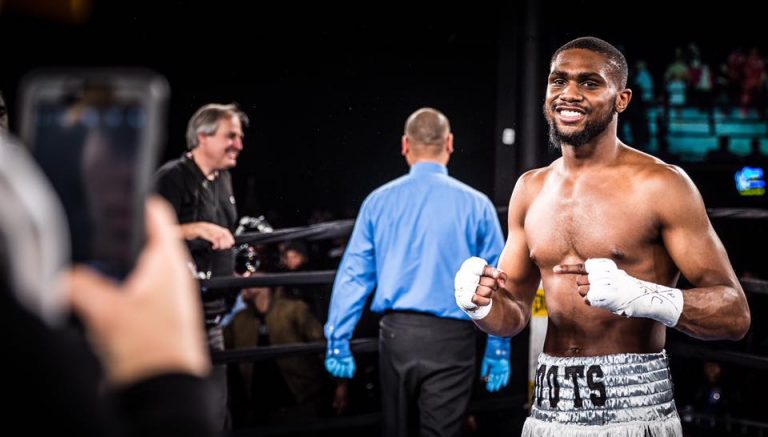 Ennis last fought November 16th of 2018 knocking out fellow Philly welterweight Ray "Tito" Serrano, 24-5, in two rounds at the 2300 Arena in South Philly. His two previous wins prior to that fight were stopping Florida's Armando "The Gentleman" Alvarez, then 18-0, in three rounds at the WinnaVegas Casino & Resort, in Sloan, OK, in July for the vacant USNBC Silver title. The previous fight in June he stopped the former USBA and world title challenger Atlantic City and Greece's Mike "Mighty Mike" Arnaoutis, then 26-10-2, in two rounds at the Showboat Hotel & Casino, in Atlantic City, NJ.
Ennis has stopped his last twelve opponents. Besides Oklahoma he has fought in Virginia, New Mexico, North Carolina, DC, Indiana and New Jersey. He was an Olympic alternate in 2015 with a 58-3 amateur record. He is promoted by Cameron Dunkin and co-managed by Joseph Dunkin and "Bozy" Ennis who is the father and teacher. In Philly there are trainers and a few teachers. "Bozy" Ennis is a teacher!
In the corner Friday night besides the elder Ennis will be Lawrence Smalls and Shaun Lewis. Also on the card in his second bout that Ennis works with will be 6:06 southpaw heavyweight Izim Izbaki, 1-0 (1), of KAZ, who made his debut last November. His opponent is 6:10 Armonte Summers, 1-1 (0), of Detroit, MI.
In asking "Boots" Ennis a question I already knew the answer to "have you been in the gym regularly?" He smiled, and said "you know that answer!" This is a young man with such confidence yet humble like that of a veteran. Having two brothers who fought before him, the oldest Derek "Pooh" Ennis, 24-5-1 (13), a former USBA Super Welterweight champion whose career ended in July of 2014 losing a decision to now former IBF Super Middleweight champion Caleb "Golden" Truax. The other Farah Ennis, 22-2 (12), a former NABF Super Middleweight champion whose career ended in May of 2015 with a decision win over Ghana's Michael "The Amazing" Gbenga.
The elder Ennis also trains Philly southpaw welterweight "The New" Ray Robinson, 24-3-2 (12), former WBO NABO champion managed by David McWater (who will have DeAndre Ware in Main Event Friday). After having his 13 fight win streak stopped Robinson has had back to back draws with opponents combined records 30-0.
"Boots" Ennis trains at the new Philly Boxing 1 on 1 Gym, owned by Rob Acosta, at 4301 Paul St., in Philly. This is a fine gym and to watch "Bozy" Ennis teach over half a dozen boxers at the same time is a thing to behold.
If things go the way this writer thinks they will go "Bozy" Ennis will be "teacher" to a future world welterweight champion, Jaron "Boots" Ennis who turned 22 in June. Move over Julian "J Rock" Williams, 27-1-1 (16), current WBA, IBF and IBO World Super Welterweight champion, southpaw Tevin "American Idol" Farmer, 30-4-1 (6), current IBF World Super Featherweight champion and Stephen "Cool Boy Steph" Fulton, 16-0 (7), current IBO World Super Bantamweight champion (fighting Saturday in Texas). Wouldn't that be something for the city of "Brotherly Love" to have four current world champions in 2020?
---