By David R. Ruff
Jeff Bumpus starts out like any other Midwest boxer. He starts with about 15 or 20 amateur fights, to his knowledge. But he ends up fighting the best of the best.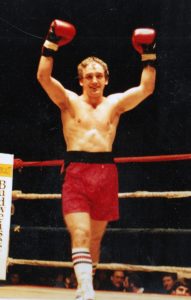 Jeff is really a down-to-earth guy. He and his trainer and manager started out learning from each other. They were all new to the pros. And it seemed like that worked. Jeff went around the Midwest racking up wins, with some of the best fighters in the Midwest. He also got to fight Julio Cesar Chavez at the famed Olympic Auditorium in Los Angeles and made a good showing. He got to fight Greg Haugen, another champion at that time—and again put up a good showing. Jeff won the USA Mid-American Super Lightweight title in 1989 against Jerry Bilyeau. In 1993 he lost to Gert Bo Jacobsen of Denmark for the WBO World Welterweight championship.
Jeff's still in boxing, but he doesn't train any fighters. He does a lot of motivational speaking at different boxing organizations and hall-of-fames. What I like about Jeff through reading his book is his all-around knowledge of boxing. He's not a bragging guy.
I'd like to say to everyone who reads this story, read his book Becoming Taz: the Southpaw Stance, which you can get on Amazon, reasonably priced. I like working with Midwestern boxers—they don't cry, they just fight.
I asked Jeff some questions, and he gracefully answered them.
1. HOW MANY AMATUER BOUTS DID YOU HAVE ?
I had about 15-20 amateur fights. Kept getting injured in freak accidents. I decided I might as well be making money.
2. WHO WERE YOUR TRAINER AND MANAGER? GIVE ME SOME INSIGHT ON THEM.
My manager was Larry Young. My trainers were Ben Barnes and Jessie Redd. I was their first pro fighter so we were all learning on the fly. They all had amateur experience and knew boxing so we were able to do ok.
3. WHO WAS A TOUGH HGHT FOR YOU, PRO OR AMATUER?
Chavez was tough, of course. Vinny Paz and Greg Haugen were both legendary tough guys as well. Those three in a row were a tough road to hoe, but I wouldn't have it any other way.
4. WHAT'S YOUR FAVORITE BOOK OR MOVIE ON BOXING?
Of course everybody loves Rocky but the film I enjoyed most other than that was Million Dollar Baby. Lots of deep truths in Morgan Freeman's voice overs.
5. IF YOU COULD, HOW WOULD YOU MAKE BOXING BETTER?
I would make boxing better by eliminating day-before weigh-ins. Too many huge guys starving and drying down to a lower weight class and fighting 20 pounds heavier on fight night. Not true representation of the weight classes.
6. WHO DID YOU LOOK UP TO AS A BOXER?
Danny Little, Red Lopez, Roberto Duran, Ray Mancini were fighters I looked up to.
7. WHAT MAKES THE MIDWEST A HOTBED OF BOXING?
I guess the people who made the Midwest a boxing hotbed in my day or shortly thereafter were names like Harold Brazier, Ronnie Essett, Angel Manfredy, They always brought it.
8. I SEE YOU HAVE A BOOK OUT. COULD YOU TELL ME SOMETHING ABOUT IT?
My book is about my career of course but it's mostly about how boxing made me the person that I am. How I grew as a man through the sport.
9. TELL ME SOMETHING GOOD OR BAD THAT HAPPENED TO YOU IN BOXING.
Something good that happened to me, was that I started to like the person that I am. Some people never become the person they want to be.
---