Joshua vs. Wilder: Should New York host the potentially colossal event?
One of the biggest events in heavyweight boxing may only be a year away. For 2018, Anthony Joshua and his promoter Eddie Hearn have expressed their desire to unify the heavyweight division, which will require the IBF and WBA world champion to defeat Joseph Parker and Deontay Wilder to take their world titles.
It's been a very long time since the reign of the last undisputed heavyweight champion of the world came to an end. In November 1999, Lennox Lewis defeated Evander Holyfield by unanimous decision to unify the heavyweight division with the IBF, WBA, and WBC world titles. Unfortunately, Lewis never had the chance to defend this illustrious title as he lost the WBA title in April 2000.
The legendary Lennox Lewis was the last undisputed heavyweight champion of the world, but Anthony Joshua has somewhat of a more difficult task as he needs to unify four belts, as opposed to the three in circulation in Lewis' era.
The boxing landscape is very different these days as well; the USA used to be the almost guaranteed venue for a big heavyweight fight, but these days, the big bouts can occur anywhere in the world, with Great Britain proving to have an avid fan base for the sport. To add to this, the smaller indoor venues that the USA used to stage many of their title fights are starting to look like inferior options to the massive stadiums and arenas that Joshua has been fighting in. But, there's every chance that big cities in the USA could follow suit and set up their stadiums for the boxing.
So, are we set to see the first undisputed heavyweight champion of the world since 2000, and if so, where might the massive clash occur?
Anthony Joshua's next move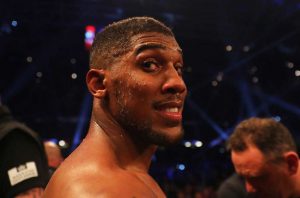 Source: BBC Sport, via Twitter
Anthony Joshua looks set to have his first fight of 2018 be against New Zealander Joseph Parker, who has held the WBO world title since defeating Andy Ruiz Jr by mixed decision in December 2016. With defenses against Razvan Cojanu and Hughie Fury under his belt, Parker is ready to risk it all against the IBF and WBA world champion.
Since Joshua defeated Carlos Takam at the Principality Stadium in Cardiff, Wales, in front of a record crowd for an indoor boxing event, his promoter Eddie Hearn has been very public about seeking fights with Parker and Deontay Wilder. While he stated that Wilder's desires for a 50-50 split of the pot were never going to be fulfilled, he looks to be closing in on a deal to match Joshua up with Parker, as of December 13. If the fight is announced and Joshua can defeat the New Zealander, as he is expected to, this would give Joshua three of the four major world title belts, and much more leverage over Wilder in negotiations for a unification bout.
It's set to be a superb fight between Joshua and Parker, with the two bringing very different styles into the ring. While a lot of what Joseph Parker and his promoter David Higgins have based their campaign on is Parker testing Joshua's chin, Parker has only edged past his last three opponents – none of which can hold a candle to Joshua.
Parker could fight on the back foot, using his slick feet and quick upper-body movement to avoid Joshua, as he did to defeat Carlos Takam by unanimous decision in May 2016, but Joshua would hunt him down and end the fight rather quickly. But, as was the case when Takam fought Joshua, Parker may also prove to have a head made of cement and push Joshua into the later rounds. In any case, though, Joshua looks to come out of this matchup as a three world title holder, so there's no wonder why Parker's camp is pushing for every last penny that they can get out of the duel.
Deontay Wilder happy to wait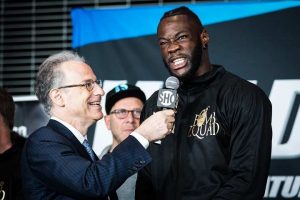 Source: World Boxing Wall, via Twitter
Eddie Hearn said that Deontay Wilder wanted a 50-50 split in a fight against Joshua, but Hearn cited the star power of Joshua compared to Wilder, and the massive attendances that Joshua has received in the UK as opposed the Wilder's rather meek viewership in the USA. The American would have done much better to either be Joshua's next fight or take on Parker himself and bring two world titles to the table.
However, there was the idea, from Hearn, that Wilder could take on another of Matchroom's – Eddie Hearn's promotion agency – star heavyweights, Dillian Whyte. Whyte was Joshua's first big test and was the first to take him beyond the third round. Since that fight, where Whyte painted the picture of a very brash young man, the boxer from Brixton, England, has gone on to put in good performances against the likes of Dereck Chisora and Robert Helenius to reclaim a large UK fan base.
If Wilder were to take on Whyte, it would raise his profile in the UK and increase his value in a mega-fight against Joshua. However, the only issue is that Whyte would have a decent chance of beating Wilder, and would certainly be his most difficult fight to date; so perhaps Wilder not taking on Whyte was a way for him to guarantee a Joshua-sized payday.
Instead, Wilder looks set to take on Luis Ortiz as his first fight in 2018. In November 2017, Wilder was set to face Ortiz in defense of the Alabama native's WBC world title, but Ortiz was pulled from the fight for failing a drugs test – for which he has since been cleared on having legitimate medical grounds. In his stead, Wilder faced late stand-in Stiverne, who was grossly out of shape and had only fought once – late 2015 versus Derric Rossy – since Wilder defeated him by unanimous decision to win the WBC world title in January 2015. Unfortunately, the 2017 Stiverne was merely more of the same for Wilder who hasn't faced a near-worthy contender since initially winning the title.
If the fight goes ahead, as it's expected to, Luis Ortiz will be the biggest test of Wilder's 39-0-0 career, with the Cuban known as 'King Kong' bringing his heavy hands and 28-0-0 record to the table. Wilder has been put under pressure and rocked by lesser fighters than Ortiz, like Eric Molina in June 2015, so despite the American's lofty status, this could prove to be a tough fight.
Joshua and Wilder already at odds
As it looks right now, Anthony Joshua will be fighting Joseph Parker in the first quarter of 2018. Then, Deontay Wilder will likely take on Luis Ortiz but probably a month or so after Joshua's bout as talk of Wilder vs. Ortiz only started to resurface after the Cuban's knockout win over Daniel Martz on December 8.
But, if Joshua and Wilder were to hold onto their world titles as expected, the two could rumble in the most significant heavyweight bout for well over a decade. While other fights like Anthony Joshua vs. Klitschko and Lennox Lewis vs. Mike Tyson were bigger fights because of the quality and star power of the pugilists involved, being able to unify a four-belt heavyweight division for the first time will be insurmountable in modern heavyweight boxing.
The real question is: will Wilder, and his promoter Lou DiBella, be willing to accept less than 50-50? With three belts to Wilder's one while selling out massive stadiums like the O2 Arena, Wembley Stadium, Manchester Arena, and the Principality Stadium as well as garnering huge television audiences at home and abroad, Anthony Joshua is the name that brings in the money, so Wilder will have to cede on some of his demands.
Even before Anthony Joshua set the record for indoor attendance at a boxing event when he fought late stand-in Takam at the Principality Stadium in October 2017, he was already earning significantly more than Wilder. Against Klitschko, in front of a mighty 90,000 fans at Wembley Stadium, he received a £15 million ($20.1 million) purse and was set to do the same against Kubrat Pulev before the Bulgarian picked up an injury. Then there's Wilder who, at his home stadium in Birmingham, Alabama (Legacy Arena), only accumulated $900,000 from his February 2017 bout against Gerald Washington at the 19,000 capacity venue. His biggest payday, in fact, was a mere $1.4 million against Chris Arreola in July 2016.
Then there's the fact that Wilder is a massive underdog coming into a potential bout, even more so than the potentially returning Tyson Fury. Wilder's +225 odds to defeat Joshua, as well as his undefeated record, may present him as a good bet to the casual boxing fan, and he may be, as, in the ring, anything can happen. However, at -333.33, Joshua is the heavy favorite for a reason. Even Fury at +125 to defeat Joshua in a potential bout sees the bookies as rating the brawling Englishman as a better contender to Joshua's crown than the 32-year-old American.
All in all, Joshua holds all the cards. He has more belts, more star power, more fans, and more money in his fights. Wilder has long said that he wants to unify the division but has never made steps to put his claims into action. Hopefully, before the end of 2018, he puts his mitts where his mouth is and takes on Joshua to unify the division and find an undisputed heavyweight champion of the world.
All that stands in the way is either fighter losing in their first bouts of 2018, one of the organisations slamming Joshua with a mandatory defence – quite possibly the WBA as Syrian fighter Manuel Charr has recently won the world belt behind Joshua's super world belt – or Wilder not giving up some ground in negotiations for the split. Assuming all of that goes as planned and the two rumble in 2018, what venues could stage such a mighty sporting event?
Boxing moving to big arenas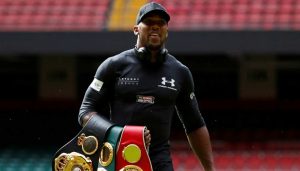 Source: Newshub Sport, via Twitter
One of the problems that boxing has had historically is the exclusivity of the live events. The biggest events in the USA have often been held in smaller venues and only available to view live via pay-per-view, which separates the fighters from a huge chunk of their fan base. Anthony Joshua and the events that he has headlined, however, have taken place in huge arenas with many top-class fights on the undercard, both making live ticket prices affordable for all with more available, and making the pay-per-view price far more worthwhile to fans in their homes.
Great Britain has once again become a land of avid boxing fans thanks in great part to Anthony Joshua's rise to stardom. The stellar cards forged by Matchroom are must-watch events from the early bouts to the main event, so a fight in a big stadium in England, Wales, or even Scotland or Northern Ireland looks to be the best site for such a historical event.
Then again, to get the most out of the home fans on this side of the Atlantic, it may be wise to hold the first – as a rematch is inevitable whichever way the fight goes – Joshua vs. Wilder bout in the USA. Among American boxing fans, a lot is held to undefeated records these days, and with Wilder as their only heavyweight world champion, the most that could be gained from a fight state-side would be the initial fight. This is because, in the case of Joshua defeating Wilder in the UK – which looks to be the likely outcome – a potential return bout in the USA may hold less weight due to Wilder's tarnished record. Also, a second fight where Joshua simply defends his titles or even seeks to win the belts back from Wilder would garner a huge audience in the UK regardless. So, perhaps the first four-belt heavyweight unification fight should take place in the USA.
Eddie Hearn and Anthony Joshua have expressed their desire to fight in the USA, but Hearn has cited the fact that Joshua is selling out huge stadiums in the UK, and that aspect is hard to abandon. Joshua has stated that he'd like to fight here, but more out of respect to the former greats that have been produced in the USA. So, if a big stadium could be booked and filled to capacity – which would certainly be bolstered by traveling fans from the UK – then maybe Hearn would consider it.
What venue could hold such a huge event?
Las Vegas has always been world-renowned as a major boxing city, and Donald Trump even made Atlantic City into a boxing hub thanks to his ties with Mike Tyson in the '80s, but the venues in Las Vegas are too meek for such a major event. Sure, they can become high roller events that add to the exclusivity and prestige of the bout, but Joshua and Hearn both have the desire to allow as many fans into their fights as possible.
Smaller venues and high prices can be hugely off-putting – as well as the inflated pay-per-view prices that come with it – and are one of the reasons why boxing took so long to enter into this bounce back phase. Just look at the farcical Floyd Mayweather vs. Conor McGregor bout that was supposed to be the fight of the century but had less than three-quarters of the T-Mobile Arena, Las Vegas in attendance.
Let us instead turn to one of the most popular tourist destinations in the world that hosts so many grand stadiums: New York. While Madison Square Garden and its 20,789 seats have housed so many majestic sports events, just by looking around the area, you can see so many incredible outdoor venues better suited to a colossal event like this.
You've got Metlife Stadium in New Jersey which seats 82,500, Ralph Wilson Stadium and its 74,000 seats in New York, and even the 54,251 seats of Yankee Stadium in the Bronx. All are grand sporting venues and could be superb stages for this gigantic event. Being on the east coast, New York is also a prime destination for those traveling from Europe, and, as well all know, oozes the magnitude that befits the crowning of such a champion.
It's set to be a massive year of heavyweight boxing in 2018, with the first four-belt undisputed heavyweight champion of the world potentially being named by this time next year. If Anthony Joshua and Deontay Wilder do meet, with all four major belts on the line, there's no doubt that if not in the UK, then one of New York's massive stadiums would be the best place to host such a prestigious and historic event.
---