Erickson Lubin defeated Jorge COta at the Barclays Center on March 4th, 2017 in a fight also televised on CBS. Below are quotes from Lubin, as well as the official scorecard at the time of the stoppage.
Result: Erickson Lubin winner by TKO in 1:25 of round 4
ERICKSON LUBIN
"I baited him with the jab. I knew he was going to come with the big shots early. I put a few tricks on him, I landed that overhand right and it was night-night. I put my hands down to bait him in, I did a squat and then it was night-night. I was ready to follow-up with a right but he was already out.
On an opportunity to potentially become the youngest world champion in boxing:
"That would mean a lot to me; that would mean a lot to Orlando, Florida.
"This is my second time knocking someone out in front of Ray Leonard. He's one of my favorite fighters of all time. It's an honor to do this on CBS."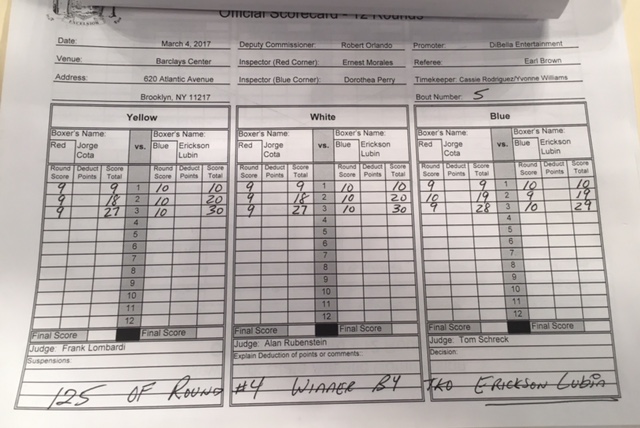 ---