Baltimore, MD (February 24, 2016) – Jake Smith's Baltimore Boxing Promotions returns to Michael's Eighth Avenue in Glen Burnie, MD for "Madness at Michaels" Thursday, March 10.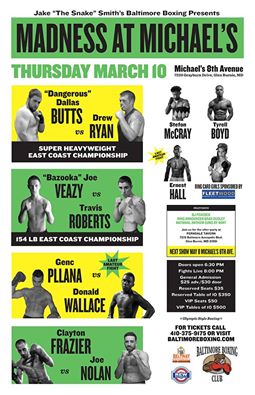 The card is topped by two title bouts and features some of the area's notable rising fighters.
Tickets purchased in advance start at $25, reserved seats are $35, reserved tables for ten are $350, $50 VIP seats and $500 VIP tables of 10 can be purchased by calling 410-375-9175. Doors open at 6:30 pm and the fights begin at 8.
In the main event, fans will be treated to a heavyweight title bout when "Dangerous" Dallas Butts challenges Drew Ryan for the East Coast Super Heavyweight crown. Butts is making a quick return to the ring, having fought January 28.
Renowned Joey "Bazooka Joe" Veazy of the Baltimore Boxing Club will do battle with Travis Roberts for the East Coast Junior Middleweight belt. The wildly popular Veazy, who has been ranked both nationally and internationally, has his sights set on turning pro in the near future.
Fast rising light heavyweight Donald Wallace meets Genc Pllana. Wallace, who fights out of the Baltimore Boxing Club, was amongst the biggest surprises during the 2016 Olympic Trials and went from being virtually unknown to one of the most discussed fighters on the local scene.
In other action, Clayton Frazier challenges Joe Nolan while former basketball star Stefon McCray, Tyrell Boyd and Ernest Hall all face opponents to be announced.
"Michael's Eighth Avenue has been great for Baltimore Boxing," said Jake Smith. "The crowd loves coming out to Michael's and we're going to reward them with two title fights and a special attraction bout featuring a future star in Donald Wallace. The community's interest in Baltimore Boxing's events has been strong and it's important to me that we give them a great event."
For more information, visit Baltimoreboxing.com.
---