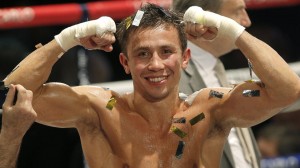 By Les Dowgier
This may come as a surprise to many American boxing fans, but the man who is thought by many to be the sport's most exciting fighter, Gennady "GGG" Golovkin, successfully defended his WBA Middleweight title two months ago in Monaco. Why might this surprise many U.S. boxing fans? Because of the 146 countries in which this fight was televised, the U.S. wasn't one of them.
For those who aren't aware of Golovkin and his exploits in the ring, let me give you brief introduction. Golovkin's professional career began in 2006 with a 1st round KO victory. Over the following 8 years, Gennady has added 28 more victories with all but 3 of those coming by way of knockout, earning him an astounding 89.66% KO percentage. To put that into perspective, this gives the Kazakh-born champion the highest KO percentage among all current and former champions, the highest KO percentage in middleweight championship history and the 3rd highest in overall championship history. Simply put, to borrow a line from Rocky IV, whatever he hits, he destroys.
Now, a high KO ratio and a great record can lose their luster when a fighter's resume is composed of less than stellar competition. However, this is not the case here. Thanks to his incredible power, Gennady has won both the IBO and WBA middleweight titles and was voted "Fighter of the Year" in 2013 by the readers of the boxing bible, Ring magazine.
In additions to all those gaudy achievements, Gennady possess a quality which many top fighters do not. Like most knockout artist, he is extremely exciting to watch. He comes into each fight with one goal in mind and a single minded determination to achieve this goal. Though he is not careless and does box, it is clear very early on what his intentions are.
So now you may ask yourself, why would such a fighter not have his latest fight televised in the U.S.?
---