Who's your trainer, are you still with Nas Graham?
Tyyab- Yeah, me and Nas, we have a great relationship and I don't see it changing, we're going to ride out, and when I'm done, he'll be the last trainer I've had. I'm comfortable, we have a good relationship and that's what it is.
So you work really well together.
Tyyab-  Yeah, Nas is actually the third trainer I've had and honestly I've had a good relationship with each trainer I've had. Jesse Chavers and Jamar Abdullah, and they had to move on for on for different personal reasons and things like that. I'm very coachable so I've always had a good rapport with my trainers and Nas isn't any different.
What is it about you that makes you a strong fighter?
Tyyab- It's just my mental aspect, my mental approach. At the professional level, it can be about money, but the money aspect was never my goal. It was always about self change and that's my strongest aspect as a fighter. I think it's all about personal growth for me. I want people to remember me not just as a money hungry person, and that's my best attribute.
What do you love about boxing?
Tyyab- I love the discipline. In the sport of boxing, if you don't have discipline, you won't make a name for yourself. People won't remember you as a good fighter. For me, you don't play boxing. I've played football, I've played basketball, but boxing is serious, you can get hurt in there. You can have fun but you have to have a serious approach at all times.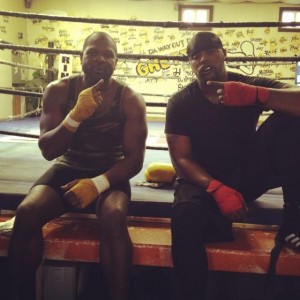 What have you been doing to train in the gym?
Tyyab- This camp, we've done more boxing, more sparring. I've been training with Kevin Johnson, he has another fight coming up. The difference with this fight will be the more rounds I put in.
What are you doing outside of the gym to train?
Tyyab- I'm running, I'm up in the morning at 4am. I get 4-5 miles in. Then, I'm back at work. I work a regular 9-5, then I'm back at the gym from 6-8:00, 8:30. Five days a week. I take a day off from running and I switch it up on a Sunday, but 6 days most of the time.
What helps you keep focused or stay consistent with your training?
Tyyab-  It's not easy, but at the same time, you have to make it a lifestyle and it only helps you. Where I'm from, Newark, NJ, there's a lot going on in my city. I live in a very violent city. And being in the gym working keeps you out of these situations. It's not rocket science. It keeps you grounded, it keeps you humble, it keeps you out of situations you don't want to be in. It's easy.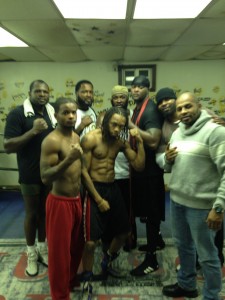 What else are you into besides boxing?
Tyyab-  My job is actually helping people because I work for a blood bank. I'm hands on, I see a lot of people. Outside of that, I'm back in forth in the community, in different gyms, talking to the younger fighters a lot, I see my nephews a lot. That's my weeks, my days, my months, in a nutshell.
What's the message you try to send to the younger guys?
Tyyab-  Stay grounded, always love your family first and foremost. Keep your family and the people you started with around you. I relate to a lot of these guys. I'm from the same areas and went to the same schools, they know me and they know that. That's the biggest message- love your family, love yourself, have fun with it, just staying grounded and staying humble.
Who was your last fight with?
Tyyab-Arron Kintch, Newark heavy weight. He was undefeated and it was his first loss. This fight on Saturday is actually a rematch with Jon Bolden, I beat him the first time we fought. He wanted to fight again, so I said we can do it again whenever you want. I'm sure he's better since that fight and I'm better than that first fight.
 What do you predict will happen on November 23rd?
Tyyab- I like to predict a knock out. I'm always respectful of my opponent. When the bell rings, I predict fireworks and for my hand to be raised in the air.
What will be next for you following this win?
Tyyab-I haven't even thought about it, I'm really just focused on Saturday night, I'm going to go in there, handle my business, I'll go back to the drawing board and see what's next.
What do you want to say to your people from Brick City Boxing?
Tyyab-I would like to thank everybody from Brick city boxing because those are my guys over there, Danny Serratelli, Alex the Brick City Bullet Perez, another world champion coming up, and everybody over there for the support. We're going to do big things this year.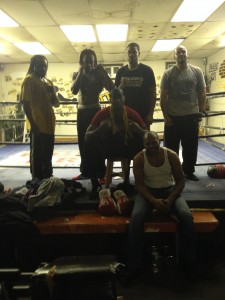 Come out to see Newark's Heavyweight Tyyab Beale-
Doors open at 6:45 and the opening bell is scheduled for 7:30. Weequahic High School is located at 279 Chancellor Ave in Newark.
Tickets from $35 are available by going to http://www.eventbrite.com/event/8886354325?ref=ebtnebtckt
---