Juan "The Beast" Rodriguez Back in Action July 27th!
North Bergen, NJ (June 21, 2013)
Written by: Kurt Wolfheimer
Andre Kut's KEA Boxing Promotions returns to Schuetzen Park in North Bergen, New Jersey with a blockbuster night of boxing, featuring undefeated welterweight sensation, Juan "The Beast" Rodriguez Jr. (11-0, 5Ko's) of nearby Union City, New Jersey in a six round welterweight contest.
The twenty-five year old Rodriquez has quickly become a crowd favorite with his give and take style. Appropriately nicknamed "The Beast," Rodriquez, Jr. has entertained his fans with explosive knockouts and dominant performances, as he runs roughshod up the welterweight ladder.
Rodriquez, Jr. headlined the original "Fight Night at the Park," battering upset minded Emmanuel Medina over four rounds, before forcing him to retire in the corner. Now, Rodriquez looks to take on all comers and it starts on Saturday night, July 27th against an opponent to be announced shortly in a six round contest.
Irish eyes will be smiling as "Paddy Boy" Patrick Farrell (8-2-1, 4Ko's) looks to return to the winning side of the ledger, when he swaps punches with Phillip Triantafillo (2-3, 1KO) in a six round heavyweight clash. Farrell had been a three fight winning streak before losing a razor thin split decision to fellow prospect John "The Breed" Lennox (12-2, 5Ko's). Farrell, knows a win over Triantafillo is essential if he's is to continue his dream of becoming a champion inside the ring.
Mine Hill, New Jersey's popular junior middleweight sensation, Anthony Gangemi (4-0, 3Ko's) looks to remain perfect, when he faces fourteen fight veteran Antonio Chavez Fernandez (2-11-1) of Brockton, Massachusetts in a six round tilt.
If that weren't enough, Andre Kut has added a special women's world title fight as "Dha Phenomenal" Nydia Feliciano (6-4-3) of the Bronx, New York battles it out over ten rounds with Las Vegas, Nevada's Crystal Hoy (5-5-3, 2Ko's) for the vacant WIBA world bantamweight championship.
Also set for the card is an evenly matched six round cruiserweight contest as Queen's, New York's Ahmed "The Egyptian Magician" Samir (11-1, 4Ko's) battles it out with the heavy handed Elvin "Koko" Sanchez (6-2, 5Ko's).
In other bouts:
Undefeated Jersey City, New Jersey heavyweight Tyrell Wright (2-0, 1Ko) looks for his third victory as a professional, when he faces an opponent to be determined.
Rugged Philly female lightweight Elizabeth Sherman (4-3, 2Ko's) looks to bounce back from her loss to world title challenger Nydia Feliciano when she squares off against Albany, New York's Jennifer Woodward in a four round contest.
Undefeated Newark, New Jersey middleweight, Anthony "Sweet Tooth" Jones (3-0-1) takes on an opponent to be announced in a four round contest.
Poughkeepsie, New York's Jody Anne Wells looks to make a splash in her debut in a four round female super featherweight contest.
New Jersey's own, Dwayne Holman Jr. makes his debut against Niagara Falls, New York's Jeremy Graves (0-2), in a four junior welterweight bout.
Tickets for this great night of boxing are priced at
$100 Ringside, $75 preferred reserved, $65 reserved, and $55 General Admission
Tickets can be purchased on PayPal at www.KEABOXING.com or by calling 973-903-2907.
Doors open: 6:30 PM
First fight: 7:30 PM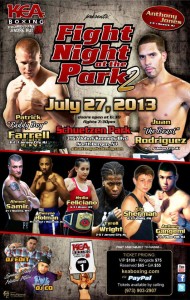 ---