Bypassing the States for the Greats!
Interview w/ Bryant "By-By" Jennings
By:  Rob Tierney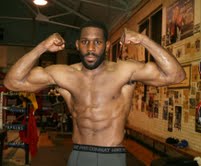 There is still hope of a Heavyweight resurgence in America.   A new generation of hungry, talented, American prospects has raised an optimistic, yet skeptic, eyebrow in the business of boxing.  Among thesse prospects is an emerging Philadelphia fighter named Bryant "By-By" Jennings.
A crafty fighter with finesse and a vicious uppercut, Jennings has quickly, but quietly, climbed the ranks nestled away on the NBC Sports Network.   And with the recent setbacks and fallouts of former hopefuls such as Seth Mitchell and Tor Hamer conveniently coinciding with Jenning's rise in the division, the Philadelphian's stock has skyrocketed in recent months.  However, if fans of Jennings or of any other new American hopeful such as Deontay Wilder or Joe Hanks were looking for young Bryant to sort out the true prospects from the suspects in America, they can forget it. Jenning's dreams are much bigger.  "By-By" is bypassing the states for the greats in Europe and abroad.
On February 5th, I caught up with Bryant to hear of his dreams and his plans in the Heavyweight division.  Surprisingly enough, a title shot may be in the not so distant future.
RT:  Good Evening Bryant.  Is there any news on your next fight date, next opponent or anything along those lines?
BJ:  Actually, right now I am trying to work a deal out against one of the Klitschko's for April 6th.
RT:  Really?  You're trying to work out a date to fight one of the Klitschkos?
BJ:   It's still under consideration.  Right now it's time to pick it up and make sure they still consider me as an opponent.  I believe it is only me and one other opponent that is in their way.  I am just trying to work at it and hopefully they will take the fight.  Hopefully you will hear more about that later.
RT: How has life changed since you broke out onto the boxing scene these last few years?
BJ: It really hasn't changed much.  It just started moving for me.  I've always had this mindset but I never had accomplishments to go along with it.  Now I have accomplishments to go along with this life and everything is coming into place and I can kind of express the real me.  I get a lot of exposure and I am doing a lot of talking and people are getting to know my personality.
RT:  Growing up in Philadelphia, you showcased talent in football, basketball, track, etc.  How did you come to boxing?
BJ: Boxing was just something that was there.  Obviously, I didn't make it in the other sports but I figured hey… I am young and I have ability and I'm in shape.  So I started boxing.
RT:  Did the tradition and popularity of Boxing in Philadelphia lure you in at all?
BJ:  No, it was just the fact that it was something else that I could be successful at.  We all have dreams of being rich and famous.   It was always a dream for me to be successful.  However, once I had my child, I knew I really had to be a successful individual for my son.
RT: Bryant, you and I both know that American fans are looking for a Heavyweight hero to emerge and bring the belts back to US shores.  Many have tried and many have fallen short.  You talked about possibly fighting the Klitschkos.  What do you feel separates you from the others and what gives you a better shot?
BJ:  I think it's more so the heart that I give and my will to want to fight above anything else.  Just by being the least experienced but the most active and by showing that simply being a pro for three years that none of that stuff matters.  I can still stick around with the most experienced guys.  Look at my athleticism alone.   I see things in myself that a lot of guys don't have.   Many of the others have one thing going for them but I have a lot of things that I know how to do.   The world hasn't even seen the real me yet.
RT: Obviously it sounds like you are looking for a fight with one of the Klitschko brothers.  Still, should that fight fall through, would you be interested in fighting some of the other upcoming American prospects that are out there right now such as Malik Scott, Joe Hanks or Deontay Wilder?
BJ: Nope! The only guys I am interested in fighting would be the guys who would set me up for a mandatory spot.  As far as American prospects are concerned, the only one that I would be interested in fighting would be the winner of the Seth Mitchell VS Jonathan Banks rematch.  That would be something that I won't be able to pass up because it would set me up for a mandatory shot.  My only interest right now is the World Title.  If I can't get that, I would be more interested in fighting internationally so I can focus on being the best in the world as opposed to just being the best in America.  Unfortunately, right now the talent in America is the shallowest.
RT:  Even with some of the new American prospects on the horizon you still feel that the talent in America is the shallowest?
BJ:  Yeah, as far as the big boxing countries go.  Look at England!  In England you have the Tyson Furys and the David Prices.  In Russia, you always have good heavyweights.  As far as the big boxing countries go we are the shallowest.  Around the world, they say we are soft.  They stomp on us!
RT: Hopefully you can change that for the sake of American fans.
BJ:  That is what I am hoping to do.
RT:  Some of the fighters you mention like the Klitschko brothers and Tyson Fury are big men.  They stand between 6 ft 6 and 6 ft 9.  In the past, they have been hard to hit.  They are big trees to chop so to speak.  How do you chop that tree?
BJ: The chopping of the tree is definitely what is going to happen.  They have a body.  The body is the perfect target.  The head is the harder target.  Hitting the body is how you get their arms to fall.  It's how you get them to break down.  When I speak my plans for a future Klitschko fight a lot of people say 'Bryant you don't know what you are talking about.  So many people have tried and have failed'.  I always tell them that I am not those people.  I am another individual, a whole different body, a whole different person and I once I chop that tree down those arms are gonna fall, they're gonna give way and their advantage is gone.
RT: People tend to talk about marketability when they talk of Heavyweights.  I noticed after your last fight you broke out into a rap song/poem.  Is that something that we will see more of in the future?
BJ: Yeah, I have an interest in music and I am actually a great poet and song writer.
RT:  Really?
BJ:  Yeah!  I grew up around the hip-hop culture my whole life so of course I have some interest in music.  Additionally, I've got a lot of common sense, I've got a lot of wisdom, I speak well and I am not just one dimensional.  A lot of fighters right now are one dimensional.  They can't seem to market themselves.  I'm orchestrating moves and plays as if I've been in the game a long time.  I'm making some additions to my business side like my publicist and my manager early in my career.  These other fighters need someone to speak for them.  They can't market themselves.  They're not good on Twitter or any of the other social websites.  You can't really fall in love with any of these other Heavyweights.
RT:  In addition to finding a Heavyweight with marketable persona, a lot of American fans are looking for a Heavyweight without knockout power.  Right now you have about a 50% knockout ratio.  Do you feel that you need to add to that as you continue your way through the Heavyweight division?
BJ:  Not at all!  I'll give you a reason too.  A lot of these guys go off power. You probably can't even name five guys in the top 25 who have been more than ten rounds in each of their last 10 fights.  I have though.  Many of these guys have built their knockout record fighting guys over four rounds or eight rounds.  In fact, four out of my last five opponents had more knockouts than I had fights.  Still, I knocked out three of the last five.  A lot of times they come into the ring against me considering themselves as knockout artists.  Then I knock them out.  I wonder how that feels!
RT:  Last week you were on BET talking with the legendary Mike Tyson.  Did he have any advice to give to you as an upcoming Heavyweight fighter in America?
BJ: No, we didn't really get a chance to talk too much but he did say that he does like what I am doing with my career and that he wishes me the best.  However, I am sure there will be other times I will get to see him and speak to him a little more.  Still, even those few words that he said to me were encouraging coming from him and that was good enough.
RT: Well that wraps up the interview, is there anything that you would like to say to your fans?
BJ: I would like to just tell my fans to keep supporting me.  Bryant Jennings is the next best thing.  I won't let you down.  You are going to fall in love with my personality.  Everything about me is to die for.  I am not only a great fighter I am a true champion.  I won't quit.  I'll always give 100%. I'm something good to look at, I'm something good to listen to and I'm something good to watch.  I'm just everything all in one.  I am a great representative of great entertainment.
RT: Thank you Bryant and I wish you the best of luck in the future.
BJ:  You're Welcome!
---