By: Danny Serratelli
Paulie Malignaggi has been overcoming obstacles his whole life. He has however becomes a master at it in his boxing career. He has turned being the underdog, facing obstacles and overcoming them into an art form. Through hard work and persistence, he has always remained a student of the sport of boxing and has always kept himself informed and relevant, even when he has encountered problems or has been out with injuries. He has kept learning and making adjustments while dealing with the politics of boxing and marketing himself in ways that go far beyond what most fighters do. The fact that he has all along possessed enough talent and has remained confident in it for all these years doesn't hurt either.
While he has been criticized for not having a high knockout percentage, and the low knockout percentage is a fact; that fact can be looked at from two perspectives. After four hand surgeries on the right hand alone, no one would have questioned him if he just retired, especially after his losses, which have been bad nights for him, particularly after the Ricky Hatton and Amir Kahn fights. No one would have knocked him if he had retired; but he didn't, and he often fought one-handed and adjusted his style so that he would be able to continue to compete at an elite level. Paulie decided to stay the course and finish the game…with the new arena being built in Brooklyn, and good timing, Paulie was able to figure out a way to sign a deal with Golden Boy. While continuing to work the angles, he has also recently acquired and excelled in a commentator position with Showtime. Especially considering the recent passing of the great Emanuel Steward and retirement of Larry Merchant, who were two forces behind the microphone, Malignaggi has been a breath of fresh air.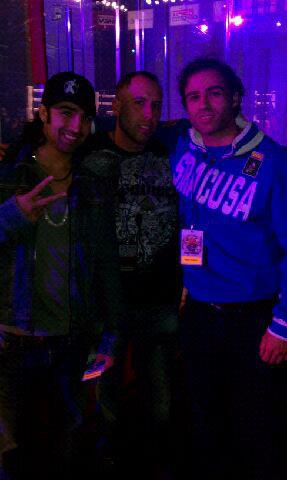 Tonight he will be defending his WBA welterweight championship against the current WBC lightweight champion, Cincinnati, Ohio's, 23- year old rising star, Adrien Broner, 26-0, 22 KO's. Broner had a great amateur background and has displayed big-time skills and punching power in the super- featherweight (130) and lightweight (135) divisions. For this fight he will be skipping the 140 pound division to go after Malignaggi's WBA Welterweight championship in what is a great matchup and a fight that has been sold and marketed by both fighters as well as any recent fight. Their styles clashed at the press conference, at the weigh in and are sure to clash when they step into the ring in this evening.
There is no doubt that Adrien Broner is one of the top rising stars in boxing. However, a closer look at how he has been moved offers a glimpse into the fact that he has been moved slowly. It doesn't take away any of his talent or star power but shows that his team has had the ability to consistently fight on a big stage against the lowest risk, highest reward options and Malignaggi is just the next step as far as they are concerned in Broner's quest to take over wherever Floyd Mayweather leaves off. Fans must be careful not to buy into all of the hype and draw their own conclusions. Since Broner impressively defeated lightweight titlist Antonio DeMarco last November he has beaten Gavin Rees, Eloy Perez, Martin Rodriguez, and Vicente Escobedo all on HBO and all great opportunities to display his talent and dominate mostly overmatched opponents.
When it comes to the difference in punching power there are a few factors to consider. While it has been done there are many fighters, even elite fighters do not carry their power up weight classes with them, especially across two weight classes (130-147 in this case). While Malignaggi is often criticized for not being a huge puncher, even his detractors will admit he has a great chin and a huge heart to go with his intelligent boxing style and to date it does not appear that his skills have eroded at age 32. Beyond the fight in the ring, Malignaggi has expressed concern in dealing with some issues outside of the ring…. "I'm a two-time champ and earned my place here. When I first got to welterweight, nobody gave me a chance. Everyone said I was going to get killed, that I had no power and was just a steppingstone for Golden Boy's prospects. I went to Ukraine and won my title against Vyacheslav Senchenko's the hard way."
"He's coming to my hometown. You think I'd at least have the crowd on my side…So they give Haymon all the floor seats, all of the undercard spots – there's probably as
many guys on the card from Cincinnati as there are from New York…All my friends who want to buy tickets and support me, they're going to be stuck behind a bunch of guys from Cincinnati."
Again, Malignaggi has known should he land a fight of this magnitude against another Golden Boy fighter that he would probably be used as the B-side fighter and they would make it as difficult as possible for him to win. At this point of his career this will just fuel Malignaggi's fire to once again prove all of the naysayers wrong. The purses have been reported as $1.5 million dollars for Broner and $1.125 million for Malignaggi, just another example of disrespect to the hometown fighter defending his belt.
Paulie had a great camp and is ready for this fight, he is already in Broner's head, ironically in the same fashion that Floyd Mayweather often gets into his opponents heads and starts winning the battle before he steps into the ring. Everyone knows Paulie will use a sharp jab and movement, but expect to see him out work Broner, make adjustments, control the ring and make Broner fight his fight. They will both be well conditioned, but Paulie will use his big fight experience, especially the fact that he has a lot of experience in big 12 round fights, while Broner's is limited.
Paulie's biggest problem may be that it often appears that some judges allow their preconceived notions that he is not a big puncher to impact how they score rounds in his fights. What this does is force him to be nearly perfect in each round in order to win the round. He can outbox someone for 2:50, but the perceived harder puncher can land a few shots, that aren't necessarily harder shots or clean punches for a few seconds and apparently steal rounds. Paulie will need to overcome that tonight, by winning the crowd early and staying a step ahead of Adrien Broner.
Malignaggi will need to be busier and stay sharp, and definitely outsmart the younger Broner. The fans job will be to get a pen, an I-phone, or some way to actually score the fight round by round and record it like the judges do. While Broner will have his moments, and some people may even feel he won the fight when the final bell rings….what you will see is that if you score the fight on the 10-point must system, round by round (not in your head) that the winner of the bout at the end of 12 rounds, when you add it up will be the guy from Brooklyn, Paulie "The Magic Man" Malignaggi!!!! With Broner set as about a 10-1 favorite it will be a sweet victory, as long as the official judges at ringside see it the same way.
---