At the 1996 Olympic Trials Augie "Kid Vegas" Sanchez won by a 12-11 decision over Floyd Mayweather, Jr. They would fight again in the box-offs with Mayweather taking decisions by 22-8 and 20-10. Mayweather admitted he lost the first one. Mayweather would go onto the Olympics losing in the semi-finals in Atlanta, GA, to Serafim Todorov, of Bulgaria 10-9.
In June of 1993 Sanchez won the U.S. Junior Olympic championship defeating Brandon Mitchem at 119 lbs. at the Naval Base in Gulfport, MS. In August he defeated Mitchem again, 5-0, at Northern Michigan University, in Marquette, MI.
In March of 1994 Sanchez would win twice before losing to Frankie Carmona in the semi-finals, 46-43. In July he would win the US Olympic Festival final defeating Chris Martinez 34-27 at the Fox Theatre in St. Louis, MO. He would repeat winning the tournament in 1995. In the semi-final in 1994 he defeated Diego Corrales (40-5 as a pro and the WBO Lightweight champ).
In November Sanchez won a meeting between the US and Mexico defeating Yoni Vargas who would go onto a 24-6 pro career winning the NABO Super Featherweight title.
Under the record of Mayweather it says in April of 1995 at the US National Championships at Colorado Springs, CO, Sanchez lost to Mayweather in the semi-finals. In April of 1996 Sanchez defeated Mayweather at the US Olympic Trials Finals in Oakland, CA. Two weeks later Sanchez lost to Mayweather at the box-offs in Augusta, GA. The next day he lost again.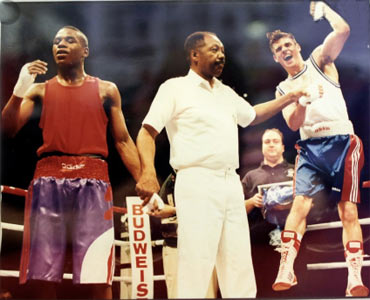 In the earlier round Sanchez defeated Carlos Navarro (27-6-1 as a pro).
Sanchez ended his amateur career 174-12.
Sanchez, from Las Vegas, NV, had a successful professional career turning pro going 28-3 with 25 stoppages, from June of 1996 to December of 2001.
Sanchez was 20-1 when he defeated former WBO and IBF World Featherweight champion Jorge "El Maromero" Paez, 62-12 (14), in May of 199. He scored a seventh round knockout! It was his first major victory in his career at the Hilton Hotel, in Las Vegas, NV.
In January of 2007 Sanchez would have his only fight outside of the US defeating France's Super Featherweight champ Didier Schaeffer, 22-15-1, in the fifth round at Manchester, UK. In his next fight he knocked out the Argentina champ Jorge Antonio Paredes, 17-6-3, in 6 rounds in Las Vegas, earning a world title fight.
In August of 2000 at Foxwood Resort, in Mashantucket, CT, Sanchez in the WBO World Featherweight title fight behind 29-28 he was stopped by southpaw champion "Prince" Naseem Hamed, 35-0 (31), at 2:34 in the fourth round.
Sanchez would bounce back in January of 2001 stopping former WBA Bantamweight and WBC Featherweight champion Luisito "Golden Boy" Espinosa, 45-9, in the fourth round at the Texas Station Casino, in Las Vegas.
In Sanchez's next fight in March he stopped Puerto Rico's former WBO Super Bantamweight and WBO Bantamweight champion Daniel "La Cobra" Jimenez, 29-10-1, in the eighth round at the Feather Falls Casino, in Oroville, CA.
In December in what would be the final fight for Sanchez he would be stopped by former WBO Bantamweight champion John "Bam Bam" Michael Johnson, 29-7, in the first round, at the Fantasy Springs Casino, in Indio, CA, for the IBA World Featherweight title.
Sanchez would go onto become a trainer at the Barry's Boxing Benter, in Las Vegas, owned by his in-laws.
Sanchez would be good enough to answer a couple of questions:
KEN HISSNER: You had some career from being an amateur champion to go onto a successful pro career. Was the win in the amateur's over Floyd Mayweather, Jr., one of the highlights of your amateur career?
AUGIE SANCHEZ: We had four fights of which I won one. Before I competed against Floyd we were roommates. We still have a mutual respect for each other today.
KEN HISSNER: Were your wins over former world champions Jorge Paez and Luisito Espinosa two of your biggest wins in the pro ranks?
AUGIE SANCHEZ: When I beat Paez it was to move my career forward and open new doors or else just be an opponent. Thank God I captured the win. When I beat Espinosa it was my greatest performance and I showed great defense, great counter punching and great power. A lot of people thought it would be too soon to compete against a fighter of that caliber after the loss to Hamed. So the loss to Hamed made me a better.
KEN HISSNER: I know you went onto become a trainer. Are you still doing this today?
AUGIE SANCHEZ: After retiring I in 2001 I started training taking local teams to different tournaments and helping them achieve their goals. I started building my resume as a coach. I applied to be an assistant in 2016 Rio Brazil. The head coach Billy Walsh felt I would be a great asset to the team. Although I didn't make the team in 1996 I still accomplished my dream of being an Olympian in 2016. In Rio I still represented my country USA on the other side of the ropes. I am now an elite coach to the highest level from Olympic medalist to professional world champions so that if there are professional that want a different perspective of strategy of boxing they can get a hold of me.
KEN HISSNER: I want to thank you for taking the time to answer these questions.
AUGIE SANCHEZ: I hope this helped out. Let me know if you need anything else.
---