From Dan Cuoco of IBRO: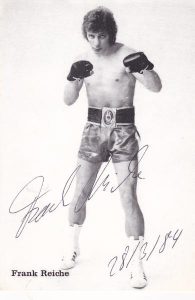 Frank Reiche – The former 1970s German middleweight champion died of cancer in March 2020, at the age of 70. He was born in the same city on December 12, 1949, and competed from 1969-1978, compiling a record of 29-11-3 (KO 21/KO by 6). During his career he defeated such fighters as Hans Dieter Schwartz, Jose Madrazo, Jean-Claude Warusfel, Clement Tshinza, Randolph Hombach (split 2 fights), Carlos Marks, Damiano Lassandro, Jean-Andre Emmerich, Wolfgang Gans, and Georg Steinherr. He also fought such fighters as Emile Griffith, Alan Minter, Bunny Starling, Kevin Finnegan, Ronnie Harris, and Frank Wissenbach.
Brick City Boxing sends our condolences to the Reiche family.
---