I have always been fiercely protective of fellow fighters in this athletic competition known as boxing. When I hear someone refer to a fighter as a" bum" , it drives me crazy. It actually makes me angry. Usually, that person never stepped in a ring for a single hard round of sparring, much less an actual fight. I respect all fighters because I know all too well the sacrifices involved, the grueling training but also the courage and fortitude it takes to leave that dressing room and walk to the ring for combat. To put yourself out there on display risking both your health and your life for the entertainment of others in the name of sport.
Fighters are not normal people. Civilians will, at almost all costs, avoid getting into a fight. Fighters train their body and mind everyday to compete against another like-minded person who has trained for exactly that same purpose. There is nothing normal about a person who willingly and regularly puts themselves in a position to be punched repeatedly from the waist up, with the head being the primary target. It isn't for the money. The five-percenters make 95 percent of the money in this sport and business. The rest? If you knew the numbers, the next logical question would be why? The sacrifice, hard work, repetition and jumping through hoops that a fighter must go through just for the opportunity to fight while risking your health and life? Normal people don't do this. Well we are not normal people and we are not doing a normal thing. We do this because of passion, because of love, because its how we make the best version of ourselves. Because pushing your body and mind to destinations it would never reach otherwise is one of the many personally rewarding things of this sport. The downside? Most fighters do not leave the sport the same way they came into it, which is to say they do not leave whole. Physically we all get older and don't have the same spring in our step that we did in earlier years, that's just life. But mentally most fighters are far removed from the person they once where because of the accumulation of years and years of punishment to the head. Sometimes, like the Saturday before last Chicago, far worse.
By now most boxing fans know that Freeport Long Island's Patrick Day suffered a serious brain injury in his fight with Charles Conwell. Day was knocked out in the tenth and final round and never regained consciousness . He passed away four days later and with his death came the stark reminder of just how dangerous this sport is. Patrick wasn't like most fighters, those that come from humble beginnings with boxing providing a potential way out. Patrick didn't have to box. He came from a good family, a nice house in a nice part of Freeport. He was a college graduate with a good head on his shoulders. He had options. He loved boxing.
At present most have read about the back stories, his coach Joe Higgins lives across the street from Day and his family and Day would start boxing around the age of 15. After a successful amateur career, Day would turn professional in early 2013 and compiled a 17-3-1 6 KO record heading into this last match up. Pat's career started just as one would expect from a man whose amateur accomplishments consisted of two national titles, a No. 1 ranking at 152 pounds in the country and an impressive 75-5 run. He got off to a 9-1-1 start with the draw being a terrible decision in his 6th pro fight of a match that he appeared to easily win. The loss was to a fellow undefeated prospect at the time named Alantez Fox who at 6'4 and 154 pounds was a terrible match up style wise for Day. Taking such a tough fight in only his 11th pro fight was both risky and bold of Day but throughout the course of his career he would prove to be a man always willing to test himself with difficult opposition. Day would come back to win his next two fights after the Fox loss before being upset via 1st round TKO to a deceiving 9-14 Carlos Garcia Hernandez. His promoter Lou DiBella would end up releasing him from his contract after the setback . With just 14 fights and 2 months shy of being a professional for 3 years, Day found himself at a crossroads in his career.
The loss to Hernandez took place in November of 2015 and Day would not get back into the ring until April of 2016. A 5 month lay-off is an eternity for a boxer in the early stages of a career, more so coming off a loss. The comeback would begin with a six-rounder against 8-2 -2 (4 KO) Courtney Pennington. Not exactly an easy fight against the local promoter Joe DeGuardia's fighter at his house venue The Paramount, a venue where Pennington had fought 4 of his last 5 fights . Pat was a promotional free agent and call it the way it was, Day was being written off and brought in as the opponent. Day would put on an impressive performance in winning a unanimous decision to get his career back on track, but it wouldn't be an easy path. Another lay-off would follow, this time consisting of seven months and the longest of Day's career at that point. He was learning quickly that the business side of boxing was as unforgiving as the pugilism side. Once again he would be brought in as the opponent expected to lose to the promoter's fighter. This time the site was the Mohegan Sun in Uncasville Connectcut against Main Events-promoted fighter Virgilijus Stapulionis. Stapulionis was the far more experienced fighter with 31 bouts under his belt and an impressive 27-3-1 (19 KO) record. Day was up against a fighter with more knockouts then Pat had fights, to add to the opponent role this would be a ten round fight, Day's first. He dominated over the course of the ten rounds dropping his opponent along the way and winning a wide decision. Two opponent roles in a row and two back to back upset wins. This scenario would go on for the rest of Day's career.
A little less then 8 months later the theme would continue to play out, this time at Nassau Coliseum on Long Island. Day would be facing the undefeated Eric Walker, once again in the opponent role and this time for Walker's WBC Continental America Jr.Middleweight title. This would be Day's first fight on a big stage against the 15-0 defending champion Walker on a huge card televised on FOX. Pat would be fighting on the off tv undercard but in an important bout on the show. In a nip and tuck affair Day would earn the biggest win of his career and pick up his first title belt with a 10-round points win. In a span of less then 15 months Day had completely resurrected his stalled career and done so from a powerless position, welcomed or unwelcomed, Patrick Dat had arrived.
Another undesired layoff would be next, once again a shade under 8 months entering the 18th bout of Patrick's professional career. Pat was once again being promoted by DiBella after the Walker upset so there would be opportunities but not necessarily ones that were probable in Pat being victorious. Pat was going to be matched tough and had to sink or swim, the development stage had already ripened. The site would be the Barclays Center in Brooklyn, New York and the opponent for this 10-rounder would be amateur standout Kyrone Davis. The 23-year-old came into the fight with a 13-1 (5 KO) record and was a natural middleweight shrinking down to junior middleweight for only the second time in his career. Day started off slow and gave up some early rounds to his naturally bigger opponent but behind a steady jab – which kept Davis off balance – and sharp combinations, the Long Islander fought his way back into the fight. It was a close affair between two evenly matched fighters. Patrick dug deep in the late rounds and boxed to a clear decision victory . Patrick's acceleration to the upper echelon of the 154 pound ranks came than quicker then expected and it came the hard way. Tough fight after tough fight but this was the only way Pat was going to get fights. He understood his perceived role knowing that nothing was going to be handed to him. The learning curve that most young fighters are extended would not be provided for him. But as long as he continued to get opportunities on big stages, he was more than willing to take those risks and rise to the occasions. Those risks would continue to come.
Seven and a half months later Day would find himself at the mecca of boxing fighting at the worlds most famous arena, Madison Square Garden. The opponent would be battle tested Elvin Ayala, a veteran of 41 professional fights as well as a former world title challenger. On paper this was Pat's first easier type fight in years. In reality Ayala had been in with a who's who of world class fighters. He had fought his entire career at higher weight classes and would shrink himself down to a career low 153 1/2 pounds for this fight. Although Pat was facing a much bigger and more experienced fighter the recent waive of gritty performances against top prospects had paid off in the form of a composed and polished Pat Day. A Pat Day who was firing on all cylinders and entering the prime of his career and it showed with a nearly flawless performance. After ten rounds of brilliant boxing varied with assorted power punches mostly all coming in combination form, Pat won unanimous decision shutting Ayala out. In three consecutive fights Pat had managed to collect victories at the three most famous arena's in all of New York. Less than four months later Pat would get right back in the ring in Frisco Texas. I vividly remember Pat being as happy as a kid in an amusement park at the reality of a quick ring return and not being forced to sit on the shelf for another long stint between fights. Pat was always an ambitious kid, willing to fight anyone, anywhere and doing so at home or on the road made no difference. This was a kid who loved what he did and had a true passion for the sweet science. He was all too happy to travel to Frisco Texas and make the third defense of his WBC Continental Americas 154 title. As added incentive to make the risk/reward factor more appetizing the vacant IBF intercontinental 154 pound belt would be up for grabs. The main event would be a rematch between Eleider Alvarez and Sergey Kovalev. This would be another undercard assignment on another big stage against another undefeated prospect for Pat. Ismail Iliev came into the fight with an 11-0-3 KO record. Iliev was not regarded as a big puncher but one who was an aggressive pressure fighter with a swarming style that wore his opponents down. Pat got off to a very good start in the first few frames against an Iliev, who true to his reputation was a come forward combative all the way. Day fought his usual brand of boxing mixing up combinations to the head and body behind a stiff jab while Iliev pressed forward more often than not hitting nothing but air. Pat was very elusive the first half of the fight showing good head movement, the product of even better anticipation. After boxing and moving well to put several rounds in the bank Day begin to tire some the second half of the fight against his pressing opponent but continued to fight him off in a series of swing rounds that could have gone either way. As the fight neared its climax in the 9th and 10th rounds Pat bit down and fought hard making Iliev miss and making him pay several times throughout. When the scores were read the Long Islander secured himself another victory as well as a second piece of hardware over another tough prospect with a decision win.
Pat would be back on the road four months later in Temecula California against undefeated Top Rank promoted prospect Carlos Adames. This would be the co feature on the Richard Commey- Raymundo Beltron world title fight on ESPN. The opponent never mattered much to Pat. He was one of those rare fighters willing to fight who ever was required in order to climb the ladder to the top. Boxing was his passion and he chose this over everything else so regardless what test was put in front of Pat he was going to take it. Adames is a hard hitting Dominican from Washington Heights NY with a slew of amateur world titles under his belt. He would also be defending his WBO NABO 154 pound title in this bout with Day. As a pro he entered this fight with 14 knockouts in his 17 fights. Although Pat had turned back prospect after prospect in hopes of a big name opportunity ,that big name fight still had not arrived. Instead he would have to take on another prospect and this would be the toughest task of them all. Pat started out boxing beautifully using good footwork to side step Adames after scoring with his combinations over the first two rounds. In the third round Adames stepped up the pressure and started letting his heavy hands go a little more touching Pat with some hard shots. There were constant momentum switches over the next couple of rounds but the one prevailing factor was that Adames punches were doing more damage than Pat's. Plenty of exchanges between both men transpired over the first five rounds with each round being fought on the evenest of terms. The 6th round was the first one in which Adames started to take control as Pat began to lose some zip on his shots. The theme continued in the 7th with Adames landing hard shots on a depleting but still game Day who would continue fighting back and having his moments. Pat would regain some control of the fight in the 8th round landing good combinations while avoiding a majority of the incoming. I wasn't scoring the fight as I watched it but remember thinking to myself "this fight is dead even, 4 rounds a piece". Rounds 9 and 10 were not good ones for the weary Day as he absorbed some heavy right hands to the side of the head throughout the 9th and didn't have the power to keep his relentless, power punching opponent off him. The 10th was even worse as disaster struck late in a round in which Pat was holding his own when he was hit with a hard right hand along the ropes. He was stunned. Adames smelled blood in the water and wanted to close the show knowing it was a close fight and that he needed the round. Punches from all angles landed on a hurt Patrick Day as he refused to go down but in doing so also refused to hold and buy some time. He took punishment up until the ringing of the bell signifying the end of the round and the conclusion of the fight. Pat had managed to stay on his feet and the resilient kid from Freeport showed character and heart surviving a round that would have made most fighters succumb. When the scores were read Day would be on the short end of a unanimous decision in a fight a lot closer then the cards reflected. Pat's stock didn't drop a bit with the loss. If anything his stock rose as he became the first fighter to offer true resistance in a back and fourth battle with Adames who is closing in on a world title shot.
After such a tough schedule of fights against prospect after prospect one would expect Pat to take an easier fight. He deserved it. He earned it. He needed it. But that wasn't Patrick Day. He also wasn't going to get such an offer as the big fight was always right around the corner or so he was consistently told. He was a matchmakers dream, a promoter's ideal fighter because he was easy to deal with and wouldn't pick and choose who he wanted to fight. That fateful Saturday night in Chicago Pat fought valiantly against yet another hard punching undefeated prospect in Charles Conwell. Conwell came into the fight 11-0 with 8 KO's , a 21 year old blue chip prospect and 2016 Olympian. Once again Pat would come in as the B side fighting a fellow Dibella promoter fighter on a undercard for Eddie Hearn's Matchroom Boxing. In Pat they saw an accomplished professional with more experience then Conwell who was a good, durable fighter, he would provide a measuring stick in a step up fight for Conwell. Pat fought bravely over the course of the fight landing hard body shots throughout and some good ones upstairs as well but they didn't seem to faze Conwell who was landing more often and with more violence. Pat elected to trade more than he should have with his heavy handed opponent and was sent to the canvas late In the 4th round from a short right hand. He wasn't badly hurt but the disparity in the power between the two men was evident. Pat would get up and go on to battle back over the course of the next 3 and a half rounds before being dropped again at the end of the 8th round. This time he was hurt. The bell would ring moments after he rose to his feet telling the referee he was fine and wanted to continue, he would get out of the round with out having to take another blow. The 9th round saw Pat continue to offer aversion in true warrior spirit before tragedy would strike in the 10th and final round. A right uppercut started it and before you could blink twice a left hook ended it…and ultimately Patrick Day's young life. He would be knocked unconscious and taken from the ring directly to the hospital never to wake up again. He would die four days later. An amazing young spark of life extinguished at just 27 years old.
The boxing world and the world at large didn't just lose an excellent fighter last Wednesday when Patrick passed, they lost an amazing person. There isn't a soul on earth who could say anything bad about Patrick Day. A kid with an amazing head on his shoulders. A kid who was always happy, always smiling, always polite to all. If you were lucky enough to know Pat as I did or if you met him only briefly the positive energy that he gave out radiated. I have known Patrick since 2007 when he was a young amateur. I was impressed at first sight, I was even more impressed a few minutes later at second site. I was a professional of 7 or 8 fights at the time and attending an amateur boxing show at a rec center in Hempstead Long island's Kennedy Park. I was there to support a guy I would years later manage when he turned professional named Richie Neves. Richie was fighting very late on the card so I took in a couple of the earlier bouts. Pat's trainer Joe Higgins is a man I have known since I started boxing back in 1997. He has always been a good trainer with a good crop of amateur talent so when I saw him walking to the ring with a skinny welterweight I sat down to have a watch and that kid was Patrick Day. He fought brilliantly combining boxing ability with pure athleticism and he was willing to trade, to fight hard but he also fought smart. He made quite an impression with his performance. After a dominating effort by Pat the scorecards were read and somehow, someway these judges awarded his opponent the victory. The entire room was in disbelief. Joe Higgins isn't shy and has a fiery personality, he tore right into the judges with a verbal assault ringside. Joe always took up for his fighters and this was no exception, he was furious. A few minutes later I walked back to the dressing room with my buddy to check on Richie who still had 45 minutes before his fight, in truth I also wanted to see the fireworks Joe was no doubt letting off. As sure as a clock will hit all 12 digits twice a day Joe was going crazy, absolutely flipping out and everyone in that room was silent. I looked over and I see Patrick packing up his bag as he is finishing getting dressed. Not a word or complaint to be heard. Calm, cool and collected the definition of humble. Every time Joe would turn to Pat in an attempt to seek an agreement on the robbery Pat stayed silent. How easily and justifiable it would have been if he joined in. If he was flipping out , throwing chairs and cursing up a storm right next to his trainer. I know I would have been, actually ….I know I have when I was in similar situations in my amateur and youthful days. I was immediately impressed with his character, with his demeanor, with his maturity. I made eye contact with my friend as Joe Higgins was still seething over the quiet room and we both nearly burst. I knew I had to leave the room soon for fear of laughing out loud during Joe's tirade and risking being publicly choked but I wanted to say something to the kid. I walked over and said " you fought a hell of a fight and they fucked you but that's amateur boxing, get right back in the gym and keep working hard , you have serious talent." Patrick didn't even address the fight and the way he was wronged. In the most sincere of tones he simply replied " Thank you for the kind words Tommy I'm going right back to the gym, when is your next fight?" I was blown away at this kids manners. I was also humbled myself that this young teenager was aware of who I was. We talked briefly for a few more seconds and then I exited the room. I would begin to see him from time to time at my gym when his coach would bring him by for sparring and always make it a point to talk, which led to our friendship.
Over the years since my first interaction with Patrick I was continuously impressed by his demeanor both inside the ring but more so outside of. Pat treated everyone with respect. Always smiling, always humble, legitimately listening and not just waiting for his turn to talk. He absorbed and wanted to learn. I sent a text the night before last weeks fight. " No crowd, no tv, nothing but your opponent, blinders on." He replied " Absolutely Tommy, tunnel vision on success." "Thank you." As always he showed gratitude and manners even as his mind was fixated on the job at hand. He had a love for this sport which even the biggest diehards find hard to carry on at all times. Somehow Pat was not jaded by the business side of boxing which made the sport side a lot harder of a journey for him then it could have been. He went from preeminent amateur to a touted prospect in the pros only to find himself in the role of a B side opponent less than 3 years after his debut yet his smile never faded. Boxing is a tough way to make a living. Aside from all the risk involved and aside from all the hard work required one has to deal with the never ending politics of the sport. More often than not your rewarded with peanuts for all the aggravation associated with just a single fight much less the string of fights one has to assemble to make a career in the hopes of some sort of payoff. Fighters are underpaid, undervalued and looked at as disposable. The veritable hoe to the pimp who has 20 more waiting to take your place. Then a tragedy like this happens and the rational question is " why would anyone want to do this?" It becomes hard to justify the dangers of the sport, more so when so very few of us are treated with the reverence we should for our jeopardies. Boxing is an unforgiving sport and the liabilities are of considerable measure. Pat was too good for this business full of vampires who bleed every last drop they can from a fighter. He would have been a success at anything he chose to do in life because of his work ethic and positive actions across all walks of life. Pat didn't want a normal life, a normal existence, he loved what he did . Boxing was in his heart, in his soul. He was proud to be a professional fighter, proud of his accomplishments, proud that he had the power and platform to inspire others. Boxing gave Pat discipline and self confidence. It strengthened his body and mind in ways few ever get acquainted. It allowed him to dream and accomplish impossible dreams. Dreams only attainable by sacrifices that a normal person would never be willing to make. Boxing made Pat's life complete. I'm sure he knew the possible consequences. At times it crosses all fighters minds and then we dispose of those thoughts and focus on the assignment at hand. I've found myself thinking worst case scenario and when my mind went there a quote from an old movie named "Point Break" always took over my thoughts. "If you want the ultimate, you have to be willing to pay the ultimate price. its not tragic to die doing what you love." I always believed that, I'm not so sure I do anymore.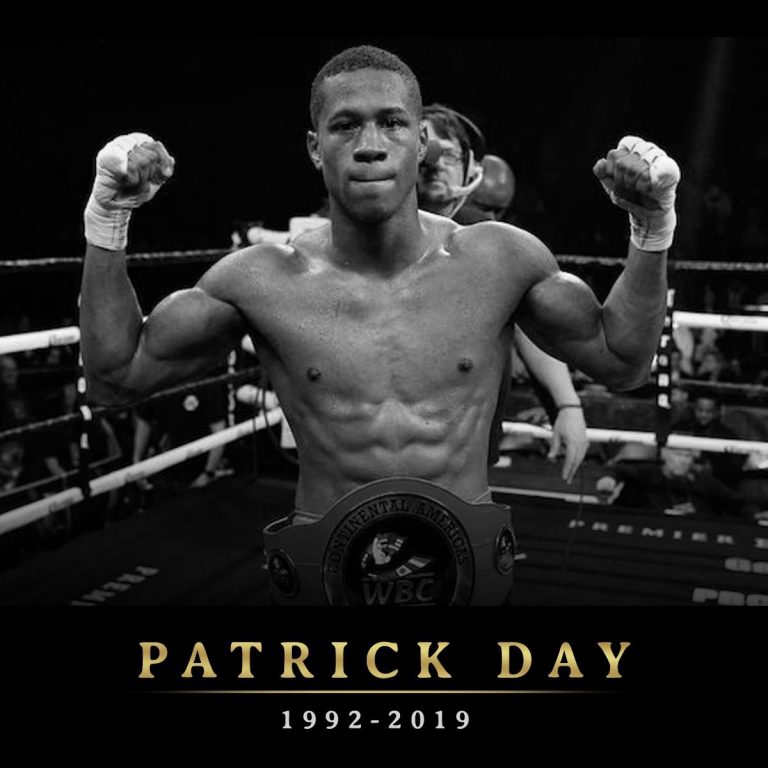 ---