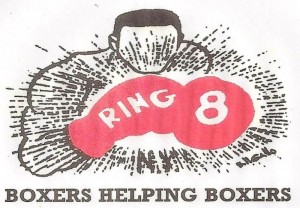 NEW YORK (February 14, 2014) – World Boxing Association (WBA) International welterweight champion Luis Collazo and Dr. David "Magic Hands" Levine are this month's Ring 8 guest speaker, Tuesday night (Feb. 18 starting at 7 p.m.) at historic Waterfront Crabhouse in Long Island City, New York.
Collazo (35-5, 18 KOs) is a New York City favorite and former WBA World 147-pound champion.  In his last fight this past January 30 at Barclays Center in Brooklyn, Collazo knocked out Victor Ortiz in the second round, likely positioning the slick southpaw for another world title shot.
New Jersey-based Dr. Levine is an innovative chiropractic physician who is on a mission that may revolutionize combat sports. Only a few days before he last fought, five-time world boxing champion Zab "Super" Judah underwent treatment from Dr. Levine.  Judah reported that he was pain free after only 45-minutes of treatment.  Dr. Levine has also had success treating retired world champions Johnny "Bump City" Bumphus and "Neon" Leon Spinks.
"This month we have two special guest speakers, maybe from opposite sides of boxing, but both are very interesting," Ring 8 president Bob Duffy said.  "Luis is one of our own, a native New Yorker who was born in Brooklyn and lives in Queens.  We were all excited to watch him win his last fight. Dr. Levine will explain what he does and do a brief demonstration.  Like Ring 8, he helps boxers – active and retired – who may not be able to afford chiropractic services."
About Ring 8:
Ring 8 became the eighth subsidiary of what was then known as the National Veteran Boxers Association – hence, RING 8 – and today the organization's motto still remains: Boxers Helping Boxers.
RING 8 is fully committed to supporting less fortunate people in the boxing community who may require assistance in terms of paying rent, medical expenses, or whatever justifiable need.
Go on line to www.Ring8ny.com for more information about RING 8, the largest group of its kind in the United States with more than 350 members. Annual membership dues is only $30.00 and each member is entitled to a buffet dinner at RING 8 monthly meetings, the third Tuesday of every month, excluding July and August.  All active boxers, amateur and professional, are entitled to a complimentary RING 8 yearly membership.
---