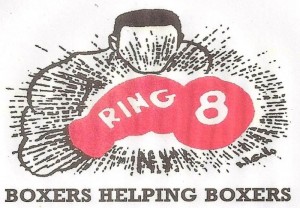 NEW YORK (January 24, 2014) – Some of 'Tomorrow's Champions' and the late Wayne Kelley's children will be special guests at Tuesday night's (Jan. 28 starting at 7 p.m. ET) Ring 8 monthly meeting at historic Waterfront Crabhouse in Long Island City, New York. This meeting was originally scheduled for last Tuesday but was postponed due to inclement weather.
New Legend boxing promoters Felipe Gomez and Kevin O'Sullivan will showcase some of their more talented New York-based boxers, including WBA No. 12 rates super bantamweight Juan Dominguez (16-0, 11 KOs), WBC Latino light middleweight Frank Galarza (12-0-2, 8 KOs), WBA No. 14 super middleweight Raphael Vasquez (9-1, 7 KOs) and super featherweight Angel Garcia (6-2, 2 KOs).
Jaclyn and Sean Kelly, the daughter and son, respectively, of the late Ring 8 member "Irish" Wayne Kelly, will speak about The IWK Foundation, which was established to commemorate Wayne's life as a Vietnam Veteran, boxer, professional referee and physical conditioning specialist. Its mission is to keep Wayne's memory alive by giving back to the community, providing financial and volunteer support to those in need. Ring 8 and Wounded Warriors will be beneficiaries of The IWK Foundation.
The inaugural IWK Memorial Fundraiser will be held February 1 (12-4 pm ET) at The Allegria Hotel (Rooftop) in Long Island, New York. Go online to www.IrishWayKelly.com for more information about the fundraiser and The IWK Foundation.
"Our first Ring 8 meeting of the year will introduce some of New York's best young fighters to our members," Ring 8 president Bob Duffy said. "We're very happy to have 'Tomorrow's Champions' as our guests. Wayne Kelly was a very close friend of mine and so many other people in boxing. He is missed but his name will live on through the foundation established by his children. They will make a presentation at our Ring 8 meeting."
About Ring 8:
Ring 8 became the eighth subsidiary of what was then known as the National Veteran Boxers Association – hence, RING 8 – and today the organization's motto still remains: Boxers Helping Boxers.
RING 8 is fully committed to supporting less fortunate people in the boxing community who may require assistance in terms of paying rent, medical expenses, or whatever justifiable need.
Go on line to www.Ring8ny.com for more information about RING 8, the largest group of its kind in the United States with more than 350 members. Annual membership dues is only $30.00 and each member is entitled to a buffet dinner at RING 8 monthly meetings, the third Tuesday of every month, excluding July and August. All active boxers, amateur and professional, are entitled to a complimentary RING 8 yearly membership.
---